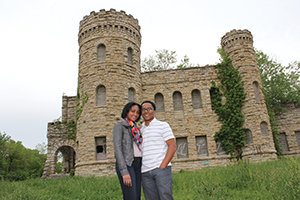 Daniel Edwards, ArchE'11 (above right), and his wife, Ebony (Burnside) Edwards, have a vision of restoring an old workhouse castle located at 2001 Vine St. in Kansas City, Mo. Their story was featured in the May 20 issue of The Kansas City Star.
The couple is working with Vewiser Dixon, the founder of the Kansas City Business Center for Entrepreneurial Development, which owns the property, to eventually turn the 1879 building into a community center, community garden, Internet café, homeless outreach center, and event or concert space.
The pair held their June 8 wedding at the location. Volunteers from their non-profit organization, 2orMore, helped them clean up the property, which has been vacant since the 1970s.
Daniel is executive director of 2orMore, which seeks to mobilize young adults "around powerful ideas to inspire collective action."
The Edwardses got their first grant for $12,500 and have an online crowdfunding campaign. You can see a video about the project at 2orMore.org.