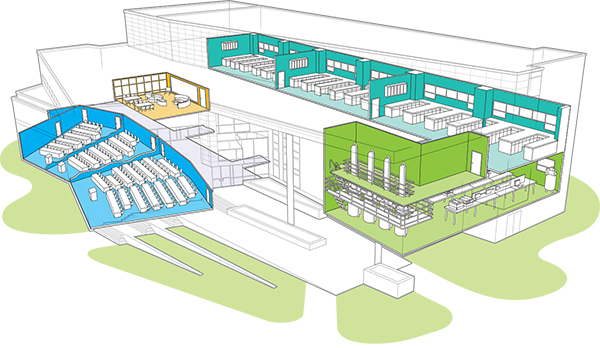 The Unit Operations Laboratory is an essential part of every chemical and biochemical engineering student's education. "Unit Ops" is where students learn to apply the theory of process engineering in a practical, hands-on way. It's also the place where students, working together on projects, forge long-standing friendships, says Bipin Doshi, ChE'62, MS ChE'63.
"I made some great friends in the lab because most of the time we were working in teams," says Doshi, now president and CEO of Schafer Gear Works Inc. in South Bend, Ind. "Looking back, that was an important part of my education. It prepared me for a lifetime of working with people."
The new Unit Ops Lab in Bertelsmeyer Hall is even more special for Doshi. He and his wife, Linda, donated $1 million to name the lab in honor of the late Frank H. Conrad, a chemical engineering professor who died in 1983. Conrad was Doshi's academic advisor and mentor.
"He was very skilled at advising in a mentoring way," Doshi says. "He treated everybody with equal respect."
Conrad also opened the door for Doshi's first job by arranging an interview for Doshi with a division of U.S. Rubber.  "That morning, he asked me if I knew that the company was holding interviews today," Doshi recalls. "When I said I didn't, he told me, 'I've signed you up for an interview this afternoon.'"
The company offered Doshi his first job, and he spent the next 25 years with U.S. Rubber (later Uniroyal) before buying Schafer Gear Works in 1988.
"I've never forgotten the kindness and caring that Dr. Conrad showed me," Doshi says. "He deserves to be recognized, and I hope that by naming the Unit Ops Lab in his honor, his legacy will live on."