Jim Bertelsmeyer – Education champion. STEM stakeholder. Proud Miner.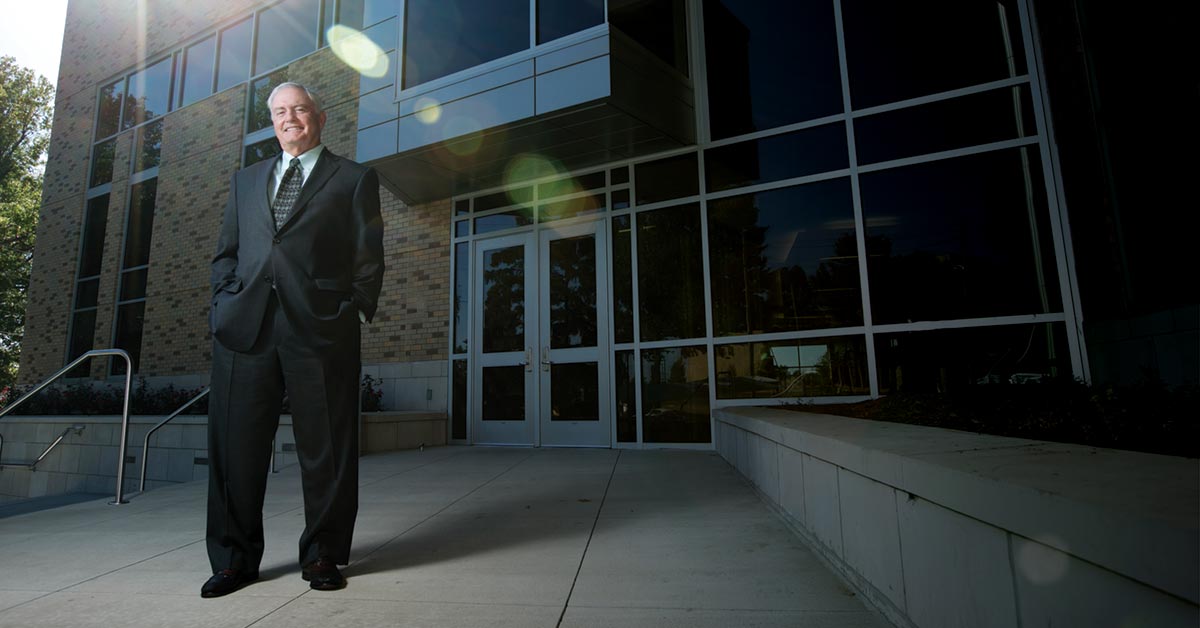 When fireworks lit up the sky over Missouri S&T at the dedication of James E. Bertelsmeyer Hall, it was a fitting conclusion. Because fireworks and Jim Bertelsmeyer, ChE'66, go back a long way.
In fact, they landed him in the dean's office almost 50 years ago, when a homemade firecracker exploded under a professor's shoe in Schrenk Hall.
"A couple of friends and I decided to make firecrackers in chemistry lab," says Bertelsmeyer, a university trustee and lead donor to the new 68,500-square-foot home for chemical and biochemical engineering. "As I recall, we used iodine crystals and ammonium hydroxide. In the process of making them, we spilled some on the floor. About that time, Doc Fisher (E.D. Fisher, former professor of chemical engineering) wandered by and stepped on a piece. The explosion didn't do any damage, but it certainly gave him a jolt."
Bertelsmeyer and his cohorts in crime ended up paying a visit to Dean of Student Affairs Paul Ponder's office.
"We were warned we would be expelled if we ever did it again," says Bertelsmeyer. "But on the way out, Dean Ponder asked, 'Did you make those out of iodine crystals and ammonium hydroxide?' When we answered in the affirmative, he smiled and said, 'I think I did the same thing in a chemistry lab.'"
Growing up in Florissant, Mo., Bertelsmeyer credits an older friend with introducing him to Missouri S&T. "I remember liking the size of the university," he says. "I felt like I could get a better education at a smaller school."
He also found a balance of student life (Lambda Chi Alpha fraternity, Student Council) and industry experience (a co-op position at Monsanto and a summer internship at General Motors).
"The engineering education I got was one of the best in the country," says Bertelsmeyer. "The technical knowledge I acquired helped me significantly. The social and leadership skills I learned helped with the development of my business career later in life."
Bertelsmeyer began his career with Mobay Chemical Corp. After serving in the U.S. Marine Corps and earning an MBA from Memphis State University, he joined Conoco Pipeline's management training program. In 1989, he founded Tulsa-based Heritage Propane Partners, a startup that grew into the nation's third-largest retail propane marketer. He took the company public in 1996 and is now retired.
A former president of the Miner Alumni Association, Bertelsmeyer was honored as one of Missouri S&T's Alumni of Influence in 2011. The endowment he established in 1998 — the largest in alumni association history — awards four-year scholarships to two new students every year for a total of eight scholars at any given time. For Bertelsmeyer, there is no better investment in the future.
"S&T is one of the best values in education today," he says. "The hundreds of companies that recruit on campus every year are there for one reason: S&T produces well-rounded engineers who know how to work and can hit the ground running."