Celebrating cultural diversity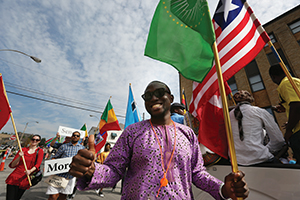 Every fall since 2010, lions, dragons and camels have paraded through downtown Rolla to show that people love a parade, regardless of their native country.
Celebration of Nations was created to give area residents and Missouri S&T students a chance to share their heritage and celebrate the region's cultural diversity. Each year the celebration has grown, and the 2014 event — the fifth annual Celebration of Nations — was the largest ever.
Attractions included international foods, displays, arts and crafts, music, entertainment, camel rides, a climbing wall, and activities for kids.