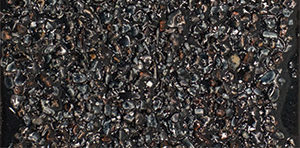 The United States spends more than $8 billion annually to fix problems caused by steel corrosion in the nation's bridges. Genda Chen, the Robert W. Abbett Distinguished Chair in Civil Engineering, is working on a solution that would prevent corrosion and increase the longevity of other steel-reinforced structures — and he's using glass to do it.
"Current steel rebar supports are mainly coated with a green epoxy," Chen says. "It works great, unless the surface gets scratched. Scratches allow moisture to seep in and become trapped between the epoxy and the steel, which actually speeds up the corrosion."
In fact, a 2002 Virginia Tech study found that the epoxy coating only extended the corrosion service life in bridge decks five years beyond that of bare steel, Chen says.
In collaboration with Richard Brow, Curators' Professor of materials science and engineering, Chen has developed a system to replace the green epoxy coating with a chemically bonded enamel substance — a type of glass. Chen dips the steel into the slurry of ground enamel and then bakes it at a high temperature.
"Because the coating is chemically bonded, even if it's scratched, moisture can't seep in" Chen says. Plus, enamel increases the rebar's bond strength with the concrete.
Chen is testing the first generation of his work on off-shore drilling platforms in China. He hopes to begin testing in the U.S. in the next two years. In the meantime, he's looking for new ways to bond the enamel coating to make it more uniform and easier to fabricate.