Lungs may suffer when elements go nano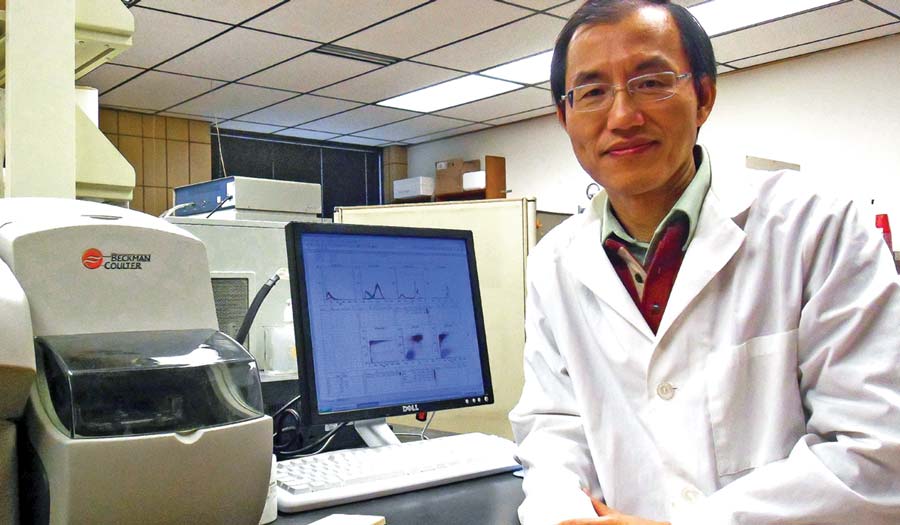 Nanoparticles are found in everything from electronics and medicine to cosmetics and environmental cleanup, but Yue-Wern Huang says they can be harmful when inhaled.
Huang, a professor of biological sciences, exposed human lung cells to nanoparticles composed of titanium, chromium, manganese, iron, nickel, copper and zinc, and found that they penetrated the lung cells and destroyed their membranes. The farther to the right an element appears on the periodic table, the greater its toxicity, Huang found.
Huang says that some of the nanoparticles released metal ions, which also played a significant role in cell death. He is now working on new research that may help reduce nanoparticles' toxicity and shed light on how they interact with cells.
"We are coating toxic zinc oxide nanoparticles with non-toxic nanoparticles to see if zinc oxide's toxicity can be reduced," Huang says. "We hope this can mitigate toxicity without compromising zinc oxide's intended applications. We're also investigating whether nanoparticles inhibit cell division and influence cell cycle."
The researcher's findings, "Cytotoxicity in the age of nano: The role of fourth period transition metal oxide nanoparticle physicochemical properties," were published in the Nov. 25, 2013, issue of the journal Chemico-Biological Interactions.