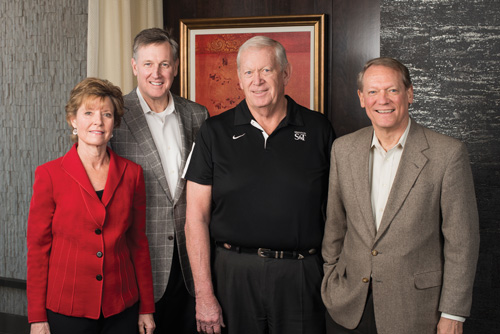 Love it or hate it, artificial turf has many benefits — including year-round field use and an even playing surface. In October, students voted to fund 75 percent of the $2.4 million required to install turf on S&T's football and intramural fields, but more is needed.
Three couples who have helped fund other Miner athletic improvements are doing it again, and hope others will join the effort. Keith, ME'64, and Pat Bailey, Steve, CE'70, and Gwen Malcolm, and Kristie, EMgt'74, and John, EMgt'74, Gibson have created the $150,000 Tulsa Turf Team Challenge, which provides a 1-to-1 match to reach a goal of $300,000 in private donations.
"Tulsa is a close-knit business community," says Bailey. "We have a great personal friendship, in addition to a business relationship." Bailey and Malcolm are both retired CEOs from Williams and John Gibson is non-executive chair of ONEOK Inc., ONEOK Partners LP and ONE Gas Inc.
"I was convinced that this was worthwhile because of the students' commitment to help fund it," says Bailey. "They'll end up with two fields that will benefit the entire student body. It will give the school a lot more functionality."
The intramural field near the Gale Bullman Multi-Purpose Building was torn up to make way for the campus's geothermal energy project, and rather than reseed the field, students voted to use their activity fees for the turf project. Another $300,000 in reinvestment funds from the geothermal project also went toward turf installation. The remainder will be raised by donors led by the Tulsa Turf Team.
"Kristie and I appreciate that this also benefits intramurals," says Gibson. "Although I was fortunate to participate in intercollegiate athletics, I remember how important intramurals were to many other students." While at Rolla, Gibson played basketball and Bailey played football and basketball.
Both fields will be striped for football and soccer. The intramural field is scheduled for completion this summer and the stadium turf will be ready for the football home opener on Sept. 20.
"I hope this will jog some others' memories of when they were students — how much they enjoyed participating in athletics," says Gibson.
The deadline to participate in the $150,000 Tulsa Turf Team Challenge is June 30. For more information, contact John Held, executive director of development, at 573-341-6533.