Redefining research: new roles for government, corporate sponsors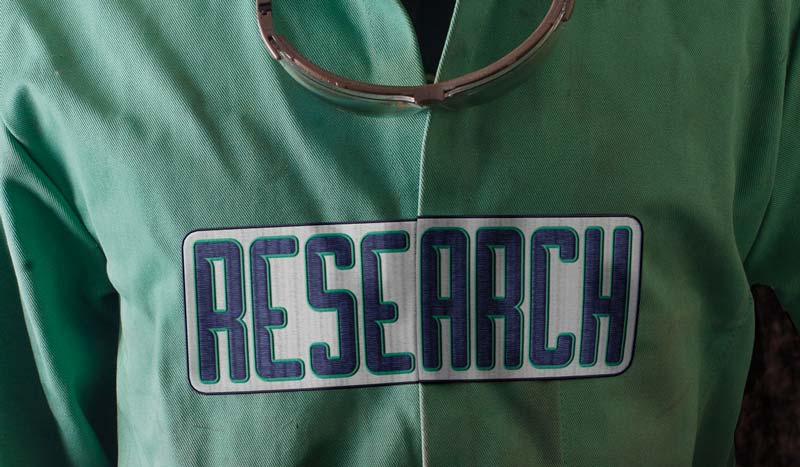 Like many schools in the United States, Missouri S&T came of age as a research university during the U.S.-Soviet "Space Race" of the 1960s. Back then, much of the research conducted on campus was funded by the federal government and usually involved the practical application of knowledge to meet specific needs. Today, most research conducted at S&T is still "applied" in nature, but the clients have changed. The private sector has become a significant source of research funding for Missouri S&T, and many expect that trend to continue – here in Rolla and in university research labs throughout the U.S. How this shift in funding affects the role of U.S. research universities is a subject that is generating interest not just at S&T, but across our nation.
The reality of research
They're called small modular reactors, or SMRs for short. The U.S. Department of Energy touts these pre-fabricated reactors as "clean, affordable nuclear power options" that will help meet America's future energy demands.
SMRs power the U.S. Navy's nuclear submarines but haven't been fully developed for public use. The United States is in a race with China, France and Russia to bring them online within a decade.
With expertise in nuclear engineering, Missouri S&T plans to make SMRs a reality. Last summer, Missouri S&T and the University of Missouri-Columbia joined with two private corporations — St. Louis-based energy company Ameren and Westinghouse Electric Co., based in Pittsburgh — to accelerate SMR research and development in the state. The resulting partnership, S&T's SMR Research and Education Consortium, also received $250,000 in seed funding from a fifth entity: Missouri Technology Corp., which the state legislature created to earmark state funds for promising new tech-focused ventures.
"The consortium will support member-driven research efforts aimed at advancing SMR technology" that can help get some pre-fab nuclear plants up and running in the state, says consortium director Joseph Smith, the Wayne and Gayle Laufer Chair of Energy at Missouri S&T.
This approach to research — blending taxpayer dollars with corporate funds to benefit business interests and support economic development — may not be the image that comes to mind when you think about university research. Perhaps you envision a lone genius in a lab coat, toiling over test tubes and mathematical formulas, waiting for that Eureka! moment of discovery to strike.
The reality of research at Missouri S&T, however, is that much of it is "applied" — that is, conducted to achieve a specific outcome. And much of it is funded by the private sector. During the 2012–2013 fiscal year, Missouri S&T received the majority of its research funding from private sources instead of federal agencies for the first time, while overall research expenditures increased by more than 5 percent, the number of patents filed by S&T inventors grew by 14 percent, and licensing and option agreements nearly doubled.
This partnership with the private sector is embedded in S&T's strategic plan, which lists both corporate partners and research agencies as key customer groups for the campus. This growth in sponsored research from the private sector is likely to continue, Smith believes.
"There's a huge paradigm shift coming for research universities," says Smith, who worked in both the private sector (Dow Chemical) and the federal government (Idaho National Laboratory) before joining Missouri S&T in 2011. "You'll see industry putting more money into research, so research universities will see more industry involvement."
At Missouri S&T, the SMR Research and Education Consortium is the latest example of that approach. Other university-industry partnerships include the Center for Electromagnetic Compatibility, which draws on S&T's expertise to address electromagnetic interference problems (so that airline passengers can one day keep their smart phones running even during takeoff), and the Center for Aerospace Manufacturing Technologies, which offers R&D expertise to the aerospace industry. Last year, a dozen companies joined forces with S&T to establish the Kent D. Peaslee Steel Manufacturing Research Center to take advantage of the university's expertise in steel casting and manufacturing research. These groups charge companies fees to access university brainpower, and member companies are more than happy to pay. In exchange, consortium members also get a say in the types of research that takes place.
End of the NASA era
Missouri S&T's roots as a research university go back half a century, to the era of the U.S.-Soviet "Space Race." Soon after the Soviet Union's 1957 launch of the first satellite, Sputnik, the federal government began pouring dollars into NASA and other agencies in hopes of beating the Soviets in a race to land on the moon. State governments also beefed up funding to support research in their public universities. One of S&T's first research centers, the Graduate Center for Materials Research, was founded in 1963 through a $2 million state appropriation. A couple of years earlier, the state's first nuclear reactor was dedicated on the campus and the University of Missouri System Board of Curators approved the organization of MSM Research Laboratories "to encourage basic and applied research … in all engineering and science disciplines."
Missouri S&T was becoming a full-fledged research university. The research enterprise at S&T expanded, even as the campus stayed true to its pragmatic engineering and science education roots. The bulk of sponsored research focused on science and technology projects. Federally funded research in areas like materials science and engineering, energy, civil infrastructure and manufacturing flourished, and the campus built a solid reputation in these disciplines. Over time, that expertise led to some unexpected ventures. Delbert E. Day, CerE'58, Curators' Professor emeritus of ceramic engineering, applied his expertise to the realm of medicine and created microscopic glass beads to treat liver cancer. The success of that venture led Day to start his own company, Rolla-based MO-SCI, which is now developing other innovative ways to use glass for medical treatment. Civil engineering professors are working with the Missouri Department of Transportation to put their ideas for stronger roads and bridges to the test in the real world, on real roads and bridges in the state. Electrical engineers and computer scientists are working with researchers at other universities to map out a future "Internet for energy," and are using the university's Solar Village, a complex of four solar-powered houses, as a test bed. And in an unusual example of how so-called big data can help researchers recognize patterns, one computer science faculty member is analyzing student Internet use for clues about how certain online activity could signal mental health disorders, such as depression.
Given these examples, it would seem that S&T's research enterprise is thriving. And it is, thanks to a broad portfolio of support from the private sector, the state and federal government, and other university partners.
Over the past half century or so, federal funding for basic research has played a role in everything from mapping the human genome to building the Internet. But the prospect of less federal support in the future is a genuine threat to research universities like Missouri S&T.
Last year, federal funds for research declined at a level not seen since the early 1970s, when the Apollo space flight program ended, says K. Krishnamurthy, vice provost for research. Moreover, the government is changing the way it allocates public dollars for research. It's placing more emphasis on funding projects that support specific outcomes, like the SMR initiative, than on theoretical or experimental research.
Don H. Madison, Curators' Professor of physics, has witnessed this change first-hand. The National Science Foundation, which funds much of Madison's basic research in atomic physics, "is shifting priorities for projects" to more applied approaches, he notes. As a result, "it reduces the amount of money they have for basic research," Madison adds.
Also, in an effort to curtail government waste, congressional earmarks went away a few years ago. Alaska's infamous "bridge to nowhere" stands as the iconic example of earmark spending gone awry. S&T's Center for Aerospace Manufacturing Technologies is the opposite: a congressional earmark that encouraged private investment in university research.
Last year, budget sequestration — automatic cuts in federal spending — threatened future research funding and brought projects to a standstill. The NSF, Department of Defense and Department of Energy — all major sponsors of S&T research — were targets of sequestration.
Those budget uncertainties in Washington, D.C., led the American Association of Universities and the Association of Public and Land-Grant Universities to appeal to Congress and President Obama to "close the innovation deficit." In a July 31 letter, signed by 165 university leaders, including Missouri S&T Chancellor Cheryl B. Schrader, the two organizations urged lawmakers to "reject unsound budget cuts and recommit to strong and sustained investments in research and education."
That approach may have worked, at least in the short term. A two-year budget deal passed by Congress last December spared key research agencies from deep cuts. But "the (funding) uncertainties have a major effect" on current research or planning future initiatives, says Krishnamurthy. "If you don't know what the budget will be, then your faculty will be reluctant to hire graduate students or post-docs.
"If we don't invest in research we will fall further behind" in terms of global competitiveness, Krishnamurthy says. But "the long-term impact" of cuts to research funding, he says, is the toll it will take on human capital.
"The underlying reason why we need these investments," he says, "is because we are investing in people — the students, postdoctoral fellows and faculty who are creating new knowledge and innovation and advancing the frontiers of science."
Business of research
Before the Space Race and Cold War eras, a handful of big corporations played a major role in advancing both applied and basic research. The most notable example is AT&T's Bell Telephone Laboratories. At the height of its productivity, Bell Labs employed some 1,200 science and engineering research Ph.D.s at its expansive campus in Murray Hill, N.J. Their work led to astounding achievements, including the creation of the first transistor and cell phone, silicon solar cells and laser technology. From the 1930s through the 1970s, Bell Labs was "the country's intellectual utopia," writes Jon Gertner in his book, The Idea Factory: Bell Labs and the Great Age of American Innovation. Much of Bell Labs' success was due to the leadership of Mervin J. Kelly, Chem 1914, who served as president from 1951 through 1959.
It's doubtful that we'll see another private-sector research giant like Bell Labs anytime soon. AT&T was a monopoly that poured ample funding into its R&D effort. It's also doubtful that federal funding for research will rise to Space Race levels, according to Smith.
"Government research will still be part of the equation," says Smith. "But it will have to be scaled back because the government can't afford it. Washington can't afford to live in the NASA era anymore."
While he was with Dow Chemical in the 1990s, Smith says the company outsourced $100 million annually on research to universities. While most companies cannot afford that level of R&D, they do seek the expertise of university faculty to help them solve their research problems, he says. Such is the case with Ameren and Westinghouse, as founding partners in the Small Modular Reactor Research and Education Consortium. Companies simply don't have the expertise or facilities to conduct the in-depth research that will lead to the next big thing in innovation, so they turn to universities.
So, as Smith sees it, the partnership between university and corporation is mutually beneficial. But are there pitfalls to such an arrangement? If universities begin to rely more on corporations for their research dollars, are they at risk of worrying too much about pleasing the companies who pay the bills and ignoring the needs of society at large?
For Joel Dittmer, assistant professor of philosophy at Missouri S&T, it boils down to a single question: "What are the motives of the sponsoring entity?"
It would be "stupid, lazy and uncreative" to assert that private-sector groups could not support research that benefits society, says Dittmer, who teaches S&T's Engineering Ethics and Business Ethics courses. "If industry is able to turn a profit while benefiting society, then that doesn't seem problematic," he says.
Even so, universities and university researchers must weigh the benefits of industry-sponsored research with the needs of society, Dittmer says. "I think it's important for the new research university to be responsive to the public. But I don't think we've had a national discussion on this issue."
Meanwhile, the need for basic research will continue, say Krishnamurthy and Madison. Alluding to the Space Race, Madison notes that "the basic research that was necessary" for the Apollo moon landing "was developed during the previous 40 or 50 years. We could not have landed a man on the moon in 10 years if the necessary basic research hadn't already been done."
Although Madison sees smaller portions of federal funding going to basic research in the future, and doubts any corporation will invest in such fundamental projects as his atomic-scale studies of charged-particle interactions, he sees a bright future for basic research.
"I'm the eternal optimist," Madison says. "If you're good and you've got good ideas, you're going to get support for your work. But it's more competitive now. What used to have to be good now has to be really, really good."