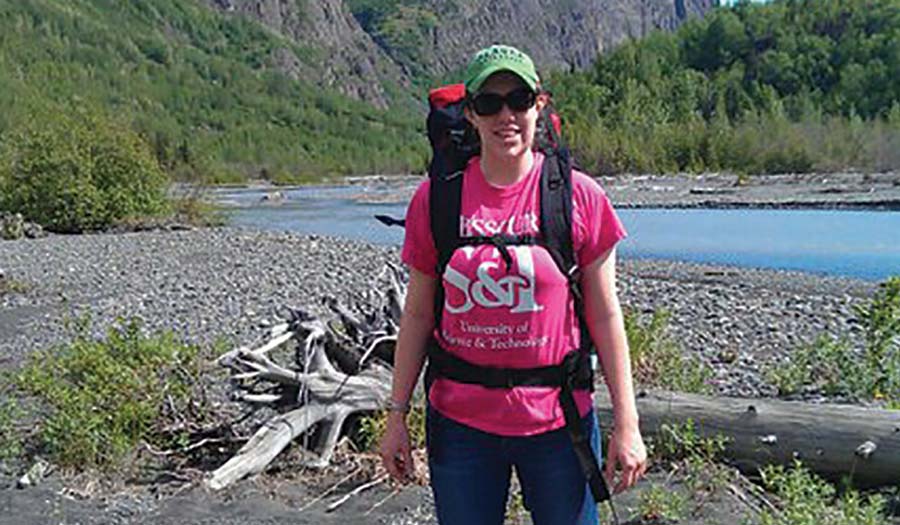 First-generation college students make up 25 percent of the 2013 freshmen class. We talked to five first-generation students — four current students and one recent graduate. Find out what they think about the challenges they faced, how it felt to leave home and what campus resources helped them.
Kayla Billadeau, ME'13, had a "can-do" personality even before she became salutatorian of her high school's graduating class. The daughter of a retired St. Louis police officer and an administrative assistant, Billadeau kept it up throughout her time at Missouri S&T, completing five internships at companies like ConocoPhillips and The Walt Disney Co. Like many other first-generation students, she was relentless in her drive to succeed and pushed herself to work harder. She credits her family's support and the financial aid she received for allowing her to "get a world-class and affordable education."
"I had the opportunity to just be myself and get involved with many organizations," says Billadeau, who joined ConocoPhillips's selective training program for project engineers and project managers after graduating in May. "S&T has a prestigious reputation with companies across the nation, which opened many doors for me."
Billadeau's story is a common one at S&T. First-generation college students like her make up 25 percent of the 2013 freshmen class. We sat down with four current first-generation students to hear their experiences. Meet Ashley Koesterer, a senior in economics and business and management systems from St. Louis; John Gettemeyer, a senior in mechanical engineering from St. Peters, Mo.; Austin Anderson, a freshman in electrical engineering from St. Charles,
Mo.; and Diamond Williams, a senior in engineering management from Black Jack, Mo. Here are their stories.
What did it feel like to leave home for college?
Koesterer: When I first got to college, I was homesick and I only wanted to be around a friend I knew who attended the school. It took me a few weeks to get used to everything and realize what a great opportunity I had.
Williams: It was scary. I left this big city to come to a small town that only had a Walmart. However, Rolla has matured me and exposed me to another style of living that I wouldn't have been able to get back in St. Louis.
Anderson: I'll have to admit it was pretty weird to leave the people you've lived with for your whole life up until now. I was lucky enough though to room with a friend I've had since middle school.
What are some challenges facing first-generation college students?
Gettemeyer: One of the biggest challenges that I faced was all of the new information coming at us. With neither of my parents having sent a child off to college, and never going themselves, we were all learning about the Free Application for Federal Student Aid (FAFSA), living on campus, and even the Family Educational Rights and Privacy Act (FERPA).
Williams: You have to hold yourself accountable. In high school, teachers would remind you of homework and projects, but that never happens in college. You have to keep yourself on task and focused.
What campus resources might first-generation students find particularly helpful?
Gettemeyer: Learning Enhancement Across Disciplines (LEAD) sessions are crucial to your success on this campus. I'm not saying that they are required for you to do well, but they provide that study group if you can't find one. It also provides a day and time each week where you have to sit down and do your homework.
What tips can you give to other first-generation students?
Koesterer: Have fun and get involved as much as you can. This has helped me learn more about myself along with other personalities. I am a woman and I am the student body president of a school with a student body that is more than 70 percent men. You can do it too!
What can parents of first-generation students do to support their college kids?
Koesterer: The small efforts really make a huge difference. I do not have a car in Rolla, so whenever I want to come home, they always offer to come and pick me up.
Gettemeyer: Let your student know that they can open up to you about anything. They are experiencing a lot of firsts. Be open to whatever questions they may have.
If you hadn't attended S&T, what do you think you would be doing now?
Williams: I honestly have no idea. Missouri S&T has changed my life for the better and has given me and my family endless hope. Since attending Missouri S&T, my cousins and friends have been inspired to ignite their passions and go back to school.
What might surprise first-generation students about the college experience?
Koesterer: You have to reach out to people and network. You
cannot expect everything and everyone to come to you. You will miss out on so many opportunities if you do not put yourself out there.
What survival skills do first-generation students need to be successful at S&T?
Koesterer: Go to the Career Fair your freshman year. This is a great opportunity to network and practice talking with employers.
Gettemeyer: Don't be afraid to ask questions and use your resources. That simple sentence will get you far. Keep some food and drinks around your room — especially stuff that reminds you of home. For example, I always have hot cocoa around that I can enjoy on those winter evenings before bed.
Anderson: Be prepared for a lot of homework and take advantage of professors' office hours to ask any questions that you might have. Study and do homework in groups. It makes it a lot more bearable.