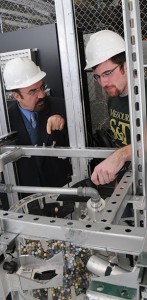 Ameren and Westinghouse Electric Co. are tapping into Missouri S&T's nuclear engineering expertise to lead a new research effort for the nuclear energy industry.
In July, those companies joined S&T, the University of Missouri System, the University of Missouri-Columbia and Missouri Technology Corp. to announce the multi-university Small Modular Reactor Research and Education Consortium. S&T, home to the state's first nuclear reactor, will lead the consortium. A satellite center will be established on the Columbia campus.
The consortium will identify and develop technology that supports small modular nuclear reactors and improves the security of the energy they produce. Smaller than traditional nuclear power plants, SMRs provide more flexibility for generating electricity. Many are designed to use fuel more efficiently, thereby reducing waste.
"The consortium will support member-driven research," says Joseph Smith, the Wayne (CE'67) and Gayle Laufer Chair of Energy at Missouri S&T and executive director of the SMR Research and Education Consortium.
"An industrial advisory board representing each consortium member will determine the research projects and direction. We will be working on projects that are of interest to our members, and everyone will benefit from the research and education that result. The work of this consortium will have a significant impact on energy and energy security, and will help the U.S. maintain its leadership role in science and technology."
In the only laboratory of its kind in the nation, Muthanna Al-Dahhan (left) is developing methods to measure and track how materials move in a pebble-bed small modular reactor. He's also looking at how the pebbles — simulated by large marbles — would transfer heat and disperse gas in such a reactor.