National award for sustainability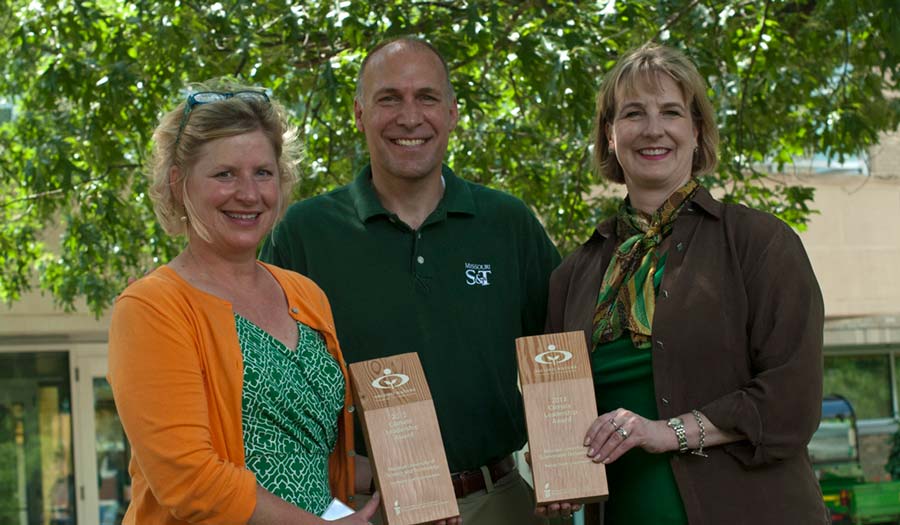 S&T's Solar Village and geothermal energy project combined to help the campus earn a 2013 Climate Leadership Award last spring. The award is from Second Nature, a non-profit organization that promotes sustainability in higher education.
"We are honored to receive this national recognition for what we believe are very pragmatic yet bold approaches to sustainability," says Missouri S&T Chancellor Cheryl B. Schrader. "Our Solar Village is the only neighborhood of its kind on any university campus, and it demonstrates the feasibility of green, low-impact living while highlighting the creativity of the students who designed and built those homes. Our geothermal energy system is one of the most comprehensive to be undertaken on a university campus. I believe it too will become a model for other institutions to emulate."
The Climate Leadership Awards are presented annually to colleges and universities whose leaders have signed the American College & University Presidents' Climate Commitment. A video produced by S&T also earned a first-place honor in a voting competition.
[youtube=http://www.youtube.com/watch?v=76DquvGTuj0]
---
How is S&T going green?
An unconventional approach to sustainability, Missouri S&T's Geothermal Energy Project is expected to save more than $1 million in energy and operational costs every year. That savings is expected to grow to $2.8 million annually in the future. The project is scheduled for completion in 2014.