Remote controlled bridge monitoring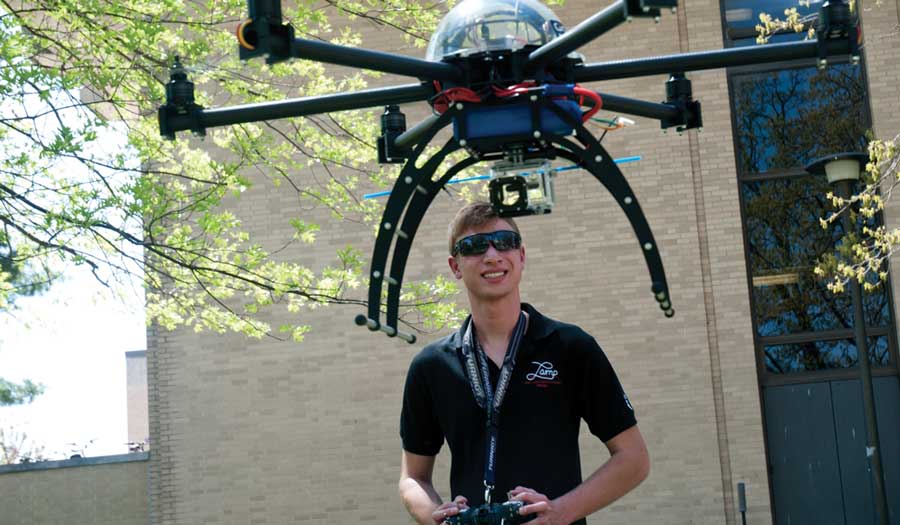 The current method of inspecting bridges for structural damage is labor-intensive and, in some instances, dangerous to all involved. But Zhaozheng Yin is developing a safer, more efficient solution dubbed the "multicopter."
The system monitors the health of bridges by collecting data autonomously and then detecting patterns that provide clues about the structures' integrity.
The "multicopter" gets its name from its appearance. The radio-controlled mini-helicopter has multiple propellers to lift it into the sky and is loaded with an assortment of cameras, sensors and other technology that help it to maneuver and hover. Yin's group has created several versions of the machine, including a hexocopter (six propellers) and a quadcopter (four propellers).
While the flying machine may not be groundbreaking, it is incredibly practical, says Yin, an assistant professor of computer science at S&T.
"Imagine you need to perform a check-up on a bridge that is over an extremely fast-flowing river, or even spans a section of the ocean," says Yin. "The standard procedures are extremely labor-intensive and time-consuming. With a multicopter, you have a feasible solution to a dangerous problem."
Yin's research is funded by Lockheed Martin and sponsored by the Mid-America Transportation Center, a consortium of Midwestern universities based in Lincoln, Neb.; Missouri S&T is a member of the group. The finishing touches of this project are set to be completed by December 2013. Chris Seto, a sophomore in computer engineering, and Yunxiang Mao, a Ph.D. candidate in computer science, work with Yin.
"These aircraft can be very precisely flown, so even in sensitive environments, such as those with many obstacles, the aircraft can still be successfully maneuvered," Seto says.
"In the future, besides its initial intentions for bridge structure monitoring, this technology could be incorporated into military or corporate use," Yin says. "Similar to drone uses, auto-detection and tracking is going to be important. Or even something like farming. If you have 60 acres of corn, you can monitor which areas need attention or irrigation, or find where the cows are on a very large farm."