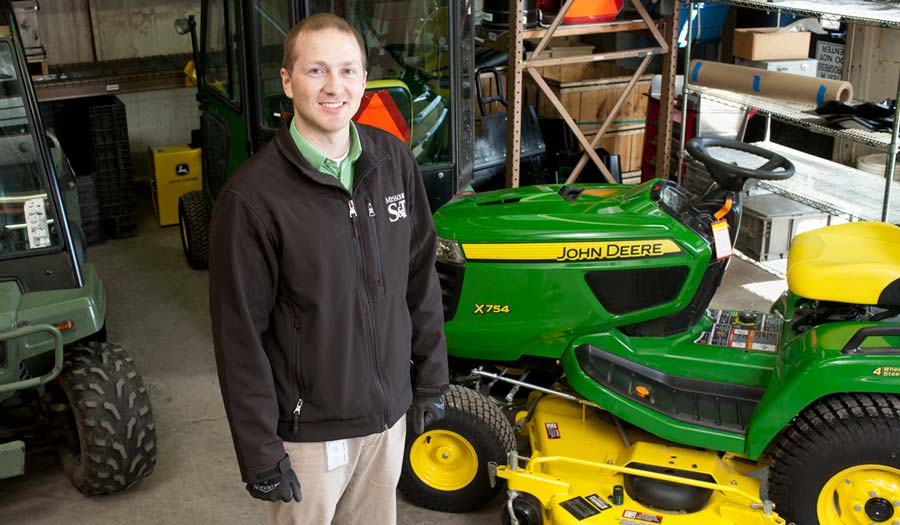 Sam Patterson is one of the voices of John Deere.
A design engineer in John Deere's rotary mower group, Patterson, ME'06, is passionate about his work — making lawn mowing easy — and it shows in the company's latest "How We Run John Deere" video, which features Patterson.
Patterson designed the two new high-capacity mower decks on John Deere's updated X700 tractor. He followed the project all the way through production, working on everything from computer modeling to performance and reliability testing. That breadth of knowledge made him a natural fit for the video.
"Aside from making tall grass short, my main job is to make it very easy for the customer to attach the mower deck to the tractor," Patterson says.
There is one latch to flip in the front of the tractor, but the majority of the connection to the vehicle is automatic, which makes maintenance and cleaning simple. Patterson says the technology was first developed for large commercial tractors.
"John Deere first developed this feature for our commercial customers on larger tractors, but it is very exciting to give this flexibility to residential customers," Patterson says. "It allows customers to mow very tall and thick grass while still leaving a manicured look, and gives them tremendous mulching capability."
Patterson is now working on Deere's new EZtrack mowers. When he isn't fine-tuning a mower deck, he travels with his wife, Amy (Edwards) Patterson, Engl'07, and plays guitar in a garage band near their Beaver Dam, Wis., home. He says the problem-solving skills he developed at Missouri S&T were the foundation of his success.
"Missouri S&T gave me the skills, attitude and discipline necessary to work at an innovative company like John Deere," Patterson says. "The faculty understand exactly what it takes to be an engineer in today's rapidly changing workplace, and they provided me with the tools I needed to succeed."