S&T wins 'gold' in mine rescue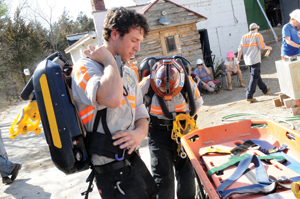 A group of Missouri S&T mining engineering students won the annual underground mine rescue competition held at Missouri S&T's Experimental Mine in October. It is the first win for S&T since 1988.
The student team competed against 12 teams from industry and another S&T squad, which finished 10th in the competition.
During the competition, teams are evaluated on how they handle a simulated disaster situation underground. The events are set up and judged by representatives of the federal Mine Safety and Health Administration.
The teams are rated on how well they follow the basic rules and regulations of the underground rescue problem, and they are graded on written exams. Mine rescue competitions also feature tests involving first aid and maintaining self-contained breathing gear.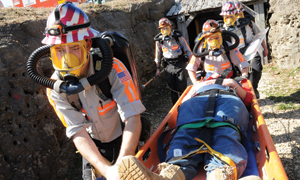 In addition to winning the underground portion of the event, the S&T Gold Team won the in-state trophy for performing best in the underground event among all six Missouri teams in the competition. The Gold Team also finished in fifth place overall, while the other S&T squad, known as the Black Team, finished 12th. A team from The Doe Run Co. finished first overall in the event.