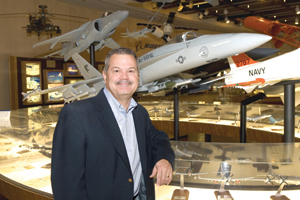 John F. Eash, AE'79, MS EMgt'90, director of F/A-18 production operations for the Boeing Co. in St. Louis, began his two-year term as president of the Miner Alumni Association in October. Missouri S&T Magazine staff sat down with him to ask a few questions.
What is your vision for the association?
The Miner Alumni Association will continue to be a growing, thriving organization that is positioned well to support alumni, students, faculty and staff, and the Rolla community.
What do you hope to accomplish during your presidency?
It's really all about what our association will accomplish. We aligned our committee structure to support our strategic priorities, with great committee leaders and members assigned to each. Over the next two years, they will accomplish great things — increasing our financial giving, strengthening our alumni sections, and improving communications with campus organizations and other constituents. I also look forward to increasing the number of active Miner Alumni Association members and the completion of the Hasselmann Alumni House.
What do you feel is the most important part of the alumni-university relationship?
The most important aspect of our alumni-university relationship is the shared responsibility of helping our students succeed during their college careers and beyond through financial assistance, career counseling, recruiting, mentorship and academic tutoring, just to name a few. When our students succeed in college and in business, it strengthens our reputation as a premier technological research university we can all be proud of.
Why should young alumni get involved with the association?
The ability to stay connected with old friends and make new ones, build professional networks with fellow alumni, and feel the pride that comes with giving back financially or through volunteering time to an organization that has helped many students — some that otherwise may not have graduated from S&T.