Historic season on the gridiron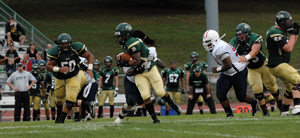 The first season for football in the Great Lakes Valley Conference was a historic one for the Miners. S&T finished with a 10-1 record to tie the university's single-season record for victories. Even though the Miners weren't invited to the NCAA Division II playoffs, the team was ranked 24th in the final poll conducted by the American Football Coaches Association. It was the first time since 1984 the program was ranked.
"I was very pleased with the way things came together this year," says Miner head coach David Brown, who stepped down in mid-February to become an assistant coach at Fresno State University. "We learned how to compete and finish. It takes a lot just to have a winning season, so you can only imagine what has to happen in order to win 10 games. It was a total team effort.
"Our senior class played a huge part in placing S&T football on the national stage," Brown says. "We definitely have a solid foundation to build on for years to come."