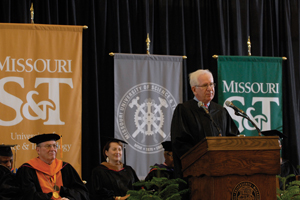 More than 700 degrees were awarded at commencement ceremonies in December. Speaker Roger Truitt, ChE'71, discussed some of the changes he's witnessed since he graduated 41 years earlier. He also gave the graduates five pieces of advice — to do their job well and market what they do, to always do the right thing, to question the validity of the questions they're asked, to give back to Missouri S&T and to have fun in life.
"Your education is just beginning and will last your lifetime," said Truitt, who received an honorary doctorate in engineering during the ceremony. "I believe you will see tremendous change in that lifetime."
Truitt is the retired senior vice president of ARCO and retired president of ARCO Products Co. He lives in Paducah, Ky.