Steven Frey: Locked in on S&T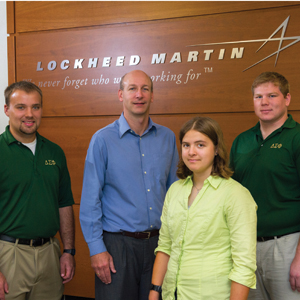 A true champion of S&T, Steven Frey, MS Phys'86, is director of applied research for Lockheed Martin Corp. in Orlando, Fla. He has been with the company since he finished graduate school.
Über advocate: Frey took it upon himself to recruit S&T students to Lockheed Martin on his own dime, using vacation time. "I feel strongly about recruiting from S&T — I know the school's value and the caliber of its students. Lockheed Martin needs the engineers S&T produces. I come to campus a couple of times a year to give talks at the career center and do informal recruiting. I get the resumes of really qualified students into the hands of the right people. And our intern program is a win-win for us — not only do the students gain skills that will give them a head start on their careers, their fresh ideas help us gain innovative perspectives that could help us penetrate additional markets."
He's also started several research projects with S&T professors to "mine some great technology they are working on to get it out of the lab and into industry."
Something extra: "My master's degree really differentiated me from others looking for jobs when I graduated. And I was only able to afford grad school because of a teaching assistant position, which I assume was paid for by a donor. I figured I ought to be willing to do the same for someone else." Frey is a member of Order of the Golden Shillelagh donor recognition society and has given to the physics development fund.
The next generation: Frey and his wife, Michelle, have two children. Lydia, 20, a junior at S&T studying chemical engineering, and Grant, 16, who recently attended S&T's Jackling Summer Camp. Grant likes to stay with his sister on campus while his parents attend OGS events.
Yes, S&T is cool: Frey and his son recently encountered members of the Formula SAE car team from the University of Florida. "I mentioned that Lydia goes to S&T and they said they have the greatest car there, the design is unbelievable, it's got a really cool green and gold paint job. One guy just went on and on about it. It was pretty gratifying to hear, especially considering the millions that some of the big universities spend on their cars. Grant and I both felt some pride in that."