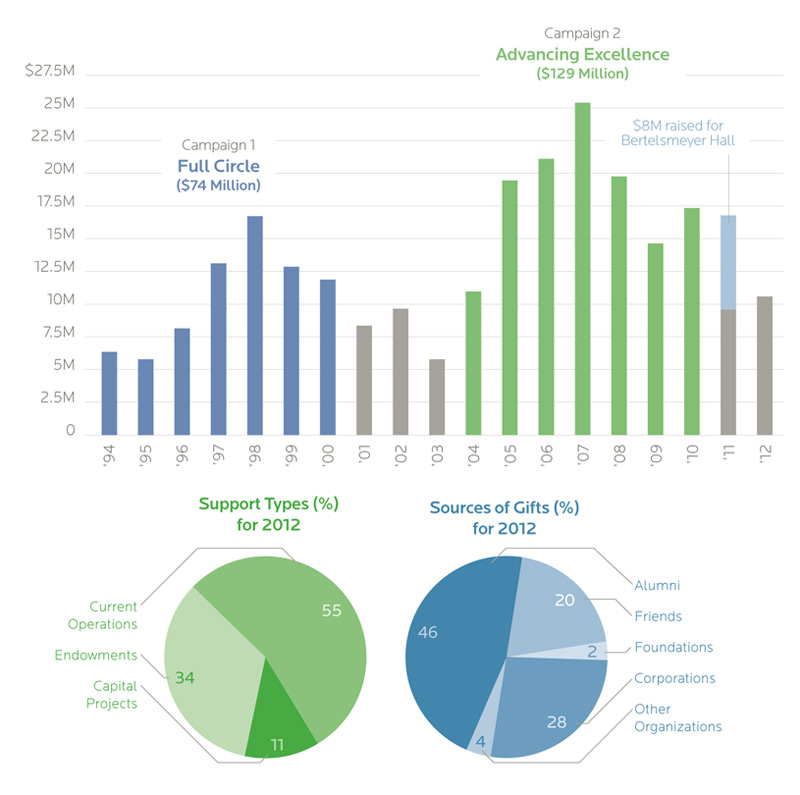 People who give charitably do so because they are passionate about their cause. They believe in investing in the future. At Missouri S&T, that generosity — and your passion for S&T — is what keeps the university thriving for our students.
You — our alumni — believe in higher education. You believe in opportunity. You believe in the value of an S&T education. And you believe in the importance of science, technology, engineering and math to the future of our nation. You know Missouri S&T is a good investment and your generosity is shaping our future. During fiscal year 2012, you helped raise $10.6 million for your alma mater.
For many years, Missouri S&T has enjoyed a stronger alumni participation rate than the national average. Miners get great jobs, and they appreciate the advantages their education provided. Our alumni participation rate is a clear illustration of the loyalty and pride of a Rolla Miner. During fiscal year 2011–12, 17.1 percent of our alumni made gifts to Missouri S&T. Last year the national average at public colleges and universities was 9.4 percent.
As alumni, you are critical to our future success, which is why we have some changes planned to strengthen your Rolla connection. We want to make sure all of our donors know how much we appreciate them and that their money is being put to good use, regardless of the size of their gift. Every donor now gets a personalized thank-you note and we created an annual report on giving for our donors that will debut next month. We have also improved and expanded the annual stewardship reports we send to all endowment donors.
The Miner Alumni Association has developed a new strategic plan that focuses on building relationships with our younger alumni. We want to be relevant to Miners of all ages.
We are also working to improve the ways we connect with you in today's mobile society. We are reaching out to you more frequently and in different ways through monthly email updates that provide news and information of interest to you. We want to hear what you think about our alumni and fundraising efforts. And of course, we welcome your input. Call or email Joan Nesbitt, vice chancellor for university advancement, at nesbittj@mst.edu or 573-578-7808, or Darlene Ramsay, executive director of alumni relations and advancement services, at ramsayd@mst.edu or 573-341-4584.