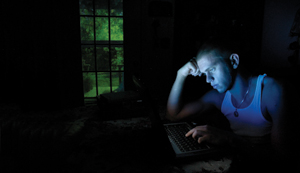 College students who show signs of depression tend to use file-sharing services, send email and chat online more than their counterparts, according to Sriram Chellappan, assistant professor of computer science. Chellappan studied the link between Internet usage and depression, and hopes to use his findings to create software that could track Internet usage and alert users if their patterns indicate symptoms of depression.
Chellappan's study is believed to be the first that uses actual Internet data, collected unobtrusively and anonymously, to associate Internet usage with signs of depression. Previous studies relied on surveys to collect data. He believes surveys are less accurate because people's memories fade over time and they tend to answer questions in a way that will be viewed favorably by others — a tendency called social desirability bias.
In the study, Chellappan and Raghavendra Kotikalapudi, MS CSci'11, tested 216 Missouri S&T undergraduates for signs of depression. About 30 percent of the students in the study met the minimum criteria for depression based on the Center for Epidemiologic Studies-Depression scale. The researchers then collected a month's worth of Internet data for those students, assigning pseudonyms to keep their identities hidden. They found that the depressed students used the Internet much differently than the other study participants.
Chellappan and his colleagues found that depressed students tended to use higher "packets per flow" applications, those high-bandwidth applications often associated with online videos and games, than their counterparts.
Students who showed signs of depression also tended to use the Internet in a more "random" manner — frequently switching among applications, perhaps from chat rooms to games to email. Chellappan thinks that randomness may indicate trouble concentrating, a characteristic associated with depression.
A paper describing the research, titled "Associating Depressive Symptoms in College Students with Internet Usage Using Real Internet Data," is scheduled to be published in the December issue of IEEE Technology and Society Magazine.
Kotikalapudi is the paper's chief author. His co-authors are Chellappan; Frances Montgomery, Curators' Teaching Professor of psychological science; Donald C. Wunsch, the M.K. Finley Missouri Distinguished Professor of Computer Engineering; and Karl F. Lutzen, information security officer for Missouri S&T's IT department.