Rick Jordan: shifting by sound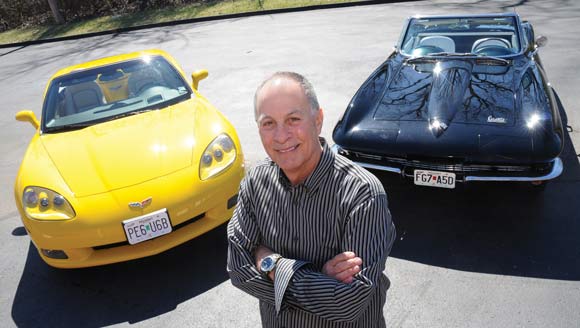 Prized possession: A 1966 Corvette Stingray. During the winter, Jordan, ME'70, keeps it stored at the same auto museum in St. Louis where he bought it.
New vs. old: He bought a 2007 Corvette new and, before that, he owned a 2003 model. "I love the new Corvettes, but the older ones are legendary," Jordan says. "Have you ever heard a song about a new Corvette? The old ones were simple enough for the average guy to understand.
Now you would have to be mechanically inclined and also a computer genius to really know your car."
"Yeah, my fuel injected Stingray and a 413, Revvin' up our engines and it sounds real mean." — Beach Boys ("Shut Down")
Cool quote about his Stingray: "There is nothing like the old side pipes. I shift by sound."
Campus connections: A member of the Claghn of the Claddagh in the Order of the Golden Shillelagh major donor society, Jordan has been active in the Academy of Mechanical and Aerospace Engineers.
"This is a great group of alumni making a difference in the mechanical and aerospace engineering department," he says. He was awarded a professional degree by the university in 1995. His giving supports the academy, the Miner Alumni Association and the mechanical engineering department. He also supported the Toomey Hall renovation.
The good life: Jordan is retired and serves on the board of directors of the company he co-founded in 1979, Paric Corp., based in St. Louis. "I have been married for 41 years to the girl I met in Rolla, LaVona," he says. "We have four adult children and four grandchildren, so far. Life is good."