Melissa Morrison: low-impact day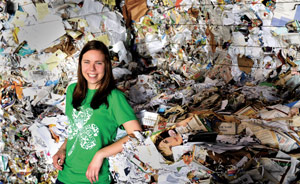 For 24 hours last fall, Melissa Morrisongave up some of her favorite things — chewing gum, toasted Pop-Tarts, the Internet and texting — all in an attempt to minimize her impact on the environment.
The sophomore civil engineering major went without prepackaged foods, soda, elevators, television and computer games. She ate no meat, poultry, fish or seafood.
In other words, Morrison tried to do in 24 hours what author Colin Beavan attempted for a year.
Beavan is the author of No Impact Man, the book all 440 students enrolled in English 20 (Exposition and Argumentation) were assigned to read last year through Missouri S&T's One Book Program. This year's English 20 classes will also read the book. In it, the New York-based author chronicled his year-long "lifestyle experiment" to answer the question, "How truly necessary are many of the conveniences we take for granted but that, in their manufacture and use, hurt our habitat?"
Morrison's course was taught by Fred Ekstam. He challenged his students to attempt to follow Beavan's human guinea pig approach to low-impact living — but only for 24 hours — and then to write about the experience.
Morrison (pictured above at the Rolla Recycling Center) survived the day without many of the conveniences we take for granted. She also discovered that minimizing her environmental impact wasn't as hard as she thought it would be.
"When I first heard about the assignment, I thought it would be fun, but I also thought it might be kind of hard," she says. "It turned out to be easier than I'd expected.
"We use so many resources," Morrison says. "It showed me how much we could live without."
The One Book Program connects new S&T students by giving them a common reading experience during their first year. For information on supporting the program, contact Joan Nesbitt, vice chancellor for university advancement, at 573-341-7808 or nesbittj@mst.edu.