Career Fair continues to grow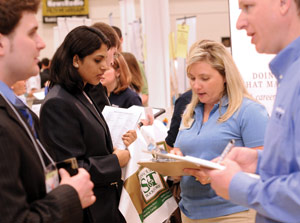 Career opportunities and employer relations hosted the Spring 2012 Career Fair on Feb. 21 with 178 employers in attendance. That's a 17 percent increase over last spring, and 29 of the employers were new. S&T students visited with more than 500 recruiters representing 29 states in hopes of landing a job, internship or co-op opportunity.
Prior to the Spring Career Fair, alumni recruiters were treated to a continental breakfast courtesy of the student alumni association, Students Today, Alumni Tomorrow (STAT), and Engineers Without Borders.
Career Fair Breakfast Attendees
Kristin Arora EE'09; Ed Bradley EE'84; Scott Clodfelter ChE'04; Duane Dierschow CerE'80; Rachel Fetters EnvE'09; Danny Johnson EE'85; Doug Johnson EE'88; Matt Kerkemeyer EE'09; Nick Mazza ChE'98; John Middleton GGph'73, CerE'75; Brad Morgan MetE'05; Xavier Naeger MinE'11; Brandon Petty CSci'05; Mike Preston ChE'88; Adam Randles ME'11; Alison Schaefer ME'02; Steven Schwalbert ME'11; Aditya Sharma EE'10; Kailen Shores NucE'11; Tony Smith ME'92; Daniel Stark EE'09; Brian Syers MinE'09; and Aaron Trenshaw ArchE'11. Missouri S&T representative: Nancy Zamazanuk.
Spring Career Fair Attendees
Will Atkins ECE'05, MS ECE'07; Allison Bohn EMgt'08; Brent Bossi AE'90,MS AE'91; Dustin Broglin EMgt'10; Roger Broman MetE'94; Josh Cawthon ME'11; Nick Codutti MfgE'08; Jarred Crouch ME'01; Mike Davis EE'91; Josh Eads CSci'08, CSci'10; Justin Enderle ECE'07; Gerad Fox CE'08; Matt Goeke ECE'10; Brett Goodman CE'93; Dominic Griffin ME'88; Tim Hand ME'01; Greg Hanlin EE'89; Brittany Harrington ArchE'10; Valerie Houseman CSci'07; Angie Kolb CE'96; Lou Kuelker CE'06; Dan Krueger CerE'94; Brad Lind EMgt'96; Dennis Linck EE'85; Kirsten Luer EE'10; Rodrick McDonald ME'07; Zach McGovern ME'11; Tom Mueller EMgt'80; Katie Niehoff ME'11; Jeff Ostermann MetE'96; Vanessa Pingsterhaus EE'10; Matthew Raterman EE'01; Oran Reeves EMgt'87; Terry Roberts CE'82; Derek Rowland EE'10; Pamela Ryder BAdm'11; Jacob Scherer MinE'05; John Sullivan MSys'03, IST'04; Shannon Todd GeoE'99; Nick Tourville ME'11; Robert Turner MetE'94; Matt Vigil ME'08; Matthew Wicks EE'93; Brian Wright GeoE'01, MinE'05; and John Yates ME'87. Missouri S&T representatives: Marianne Ward and Nancy Zamazanuk.