Bridge that should last 'until we have flying cars'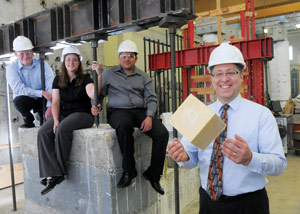 With 17 percent of Missouri's bridges deficient and not enough funding available to repair and rebuild them, researchers at Missouri S&T are more determined than ever to develop innovative and inexpensive materials that can replace these structures.
"A common saying for civil engineers is that we could build bridges that last forever, but we can't afford to," says Jeffery Volz, assistant professor of civil, architectural and environmental engineering.
The majority of the nation's 600,000 bridges were built nearly 50 years ago using traditional materials like steel, concrete and rebar. The strength of these bridges has been greatly reduced due to weathering, wear from vehicle traffic, de-icing chemicals and reduced maintenance.
Over the last 15 years, newer designs have called for replacing the concrete and rebar with fiber-reinforced polymers (FRP). But despite offering a longer life and lower maintenance costs, fiber-reinforced bridges come with a higher price tag up front — nearly twice the cost of traditional structures — because the honeycomb structure is extremely expensive to construct.
"The foam and FRP panels offer the same cost as concrete but could live forever."
That's where Volz sees an opportunity. Using a $120,000 grant from the Missouri Department of Transportation and $60,000 from the U.S. Department of Transportation, he and other S&T researchers are exploring how high-density polyurethane foam could eliminate the need for the honeycomb structures.
Sandwiched between FRP facings, polyurethane foam is often used in cars, planes and prefabricated buildings.
Working on the project with Volz and his students are K. Chandrashekhara, Curators' Professor of mechanical and aerospace engineering, and Victor Birman, professor of mechanical engineering and director of S&T's Engineering Education Center in St. Louis. They're working with a formulation of polyurethane foam that can withstand compression beneath a truck wheel. By adding glass fibers to the polyurethane foam, it can withstand up to 1,000 psi.
"The foam and FRP panels offer the same cost as concrete but could live forever," Volz says. "It should last until we have flying cars and don't need bridges anymore."