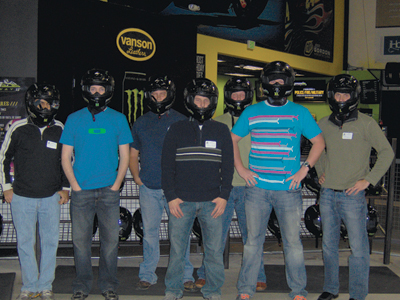 Inside the 60,000-square-foot climate-controlled Speed Raceway in Englewood, Colo., Rocky Mountain Section alumni felt the wind in their hair and the thrill of flying past fellow alumni for the title of "King/Queen of the Road."
During the Oct. 29 event, alumni raced electric carts around the track, flew into walls and came out to compare their statistics from the state-of-the-art timing system. This family-friendly event encouraged dad, mom and the kids to race, watch in suspense, and play pool or arcade games. During one race, a daughter was heard yelling, "Come on Dad, you can go faster than that!"
"It was a great opportunity to have a friendly race and see a little competition among the 'Rolla' gang," says Kurt Haslag, CE'07, president of the Rocky Mountain Section.