William Andrews, former professor of civil engineering
William Andrews was my favorite professor and, without a doubt, the most brilliant, perceptive and best teacher I have ever known – but he was also my very special friend. I struggled with addressing him as "Bill" (which after my graduation he insisted on) because of the utmost respect and admiration I carried for him. While he was most comfortable being referred to as "Bill," to me it seemed too ordinary for such an extraordinary man.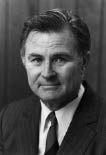 As of my graduation in 1986, he claimed he had me in more classes and for more hours than any other student in his teaching career and for this I feel truly blessed. He served as my guidance counselor as well, which earned him the title of my "Rolla dad" because, like my own father, he always had my best interest in mind, motivating me to make the right decisions. He was not just a teacher of curriculum, he also taught respect and responsibility through his own actions. He was always fair and never judged anyone, he just kindly redirected if need be. And he always had a positive attitude and kept things interesting and fun with his endless wit. He would turn his head with a slight grin when I arrived to class a few minutes late, with bare feet and wet hair. And I think after years of trying, I finally convinced him to postpone a quiz that he scheduled during St. Pat's week, but only to pay the price the Monday after classes resumed.
Andrews didn't sweat the small stuff because he was always focused on the big picture. He was loved and respected by all of his students as well as the staff, so it's no wonder he was named Outstanding Teacher for so many years. But above all, he was a faithful and proud family man who was grateful for every day. He had a true and rare gift and we are all so fortunate that he shared that gift.
While his illness and passing deeply saddens me, I feel incredibly honored and elated to have had him in my life and I can't help but smile when I think of him. He never ceased to inspire me throughout my professional career as well as in my personal life, and the knowledge and confidence that I gained from him will always be a part of who I am today. I cherish the time I had with him and my admiration for him will continue in many ways throughout my life. He will be forever missed.
Kami (Crane) Cozort, CE'85, MS CE'86, lives in Clayton, Calif., with her husband, Chris, and two children.