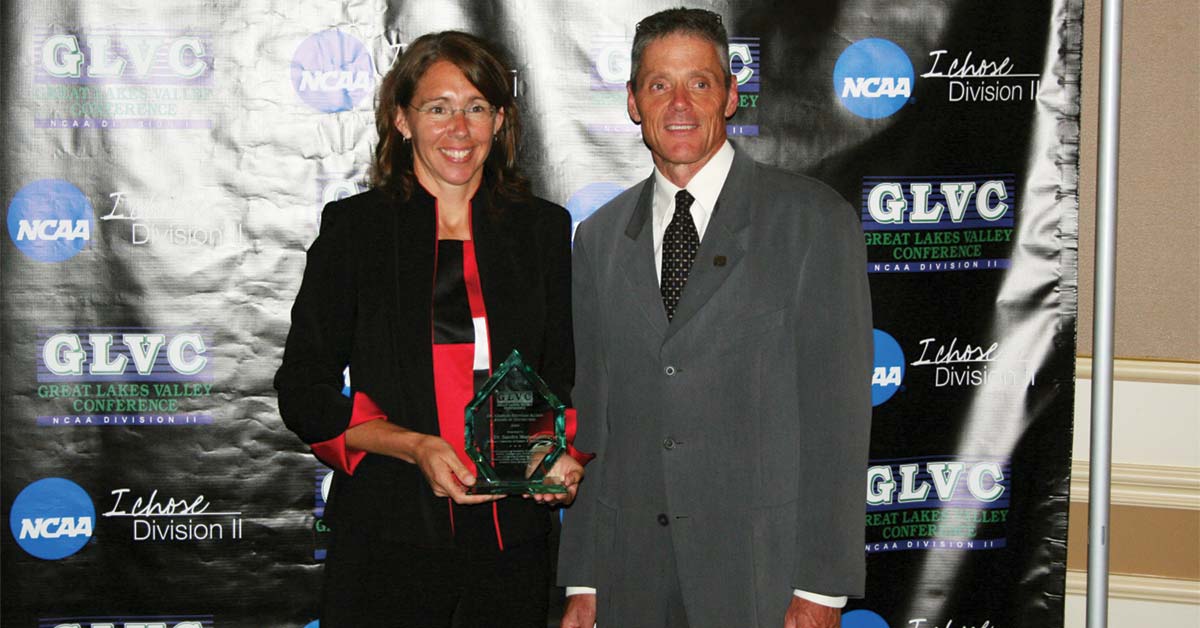 One current and one former Missouri S&T athlete received top honors from the Great Lakes Valley Conference at its annual awards banquet held in St. Louis this spring.
Sandra Magnus, Phys'86, MSEE'90, a mission specialist for NASA and a former standout for the Missouri S&T women's soccer team, received the Dr. Charles Bertram Alumni of Distinction Award, and Jordan Henry, EE'09, a standout pole vaulter for the Miners' track and field squad, received the men's Paragon Award from the GLVC.
Magnus, who recently completed her second space mission to the International Space Station, was one of the top defenders on the women's soccer team, earning four letters and helping guide the Lady Miners to a 31-27-2 record during the program's first four years. She anchored a defense that allowed just over a goal per game during her four years on the playing field, including just 14 during the 1983 season when the Lady Miners posted a 10-5 record.
Magnus was inducted into the Missouri S&T Athletics Hall of Fame in 2003 and last fall was honored by the National Soccer Coaches Association of America with its honorary All-America award, which is given to an individual who has brought particular distinction to soccer through their efforts within and beyond the boundaries of the sport.
Magnus worked for McDonnell Douglas Aircraft Co. for five years as a stealth engineer and then after earning her doctorate from Georgia Tech, Magnus joined NASA and completed two years of training and evaluation, qualifying her for flight assignment as a mission specialist. She served as a capsule communicator in Mission Control at Houston's Johnson Space Center in 2000 and made her first space mission in October 2002. In April, Magnus completed a four-month mission to the International Space Station as an Expedition 18 flight engineer and NASA science officer.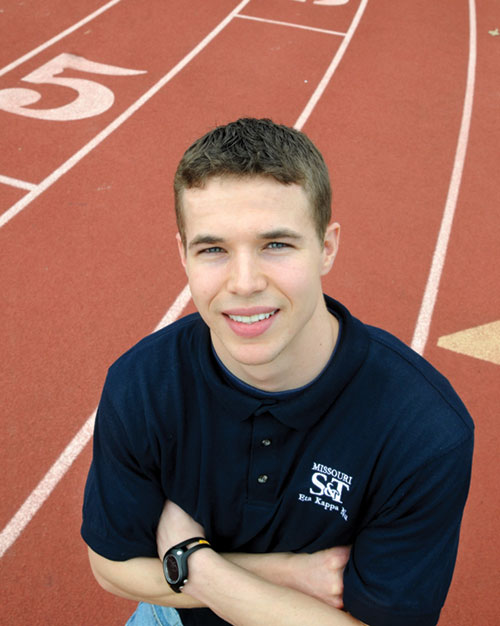 Henry has earned All-America honors five times in his collegiate career in the pole vault event. The most recent came in March when he finished as the national runner-up for the second straight year in the pole vault at the NCAA Indoor Championships in Houston. Henry finished fifth at the outdoor meet in May.
Prior to this season, Henry had earned All-America awards in the pole vault at the NCAA's indoor meet in 2007 and 2008 and the 2008 Outdoor Championships. He was seventh in the 2007 indoor meet and second in 2008, then placed fourth at last year's outdoor meet.
In addition to his performance at the national level, Henry has also been a top competitor at the conference level where he has finished among the top four at all eight of the GLVC championship meets he has taken part in over the last four seasons. He has won league titles in the event four times, including the 2009 outdoor meet, when he set the Missouri S&T outdoor school record of 17-0