Jerry Bayless: A Miner through and through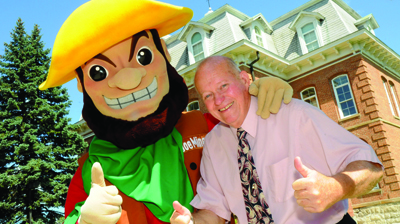 Jerry Bayless, CE'59, MS CE'62, will probably never know just how much of an impact he has made on the lives of his students. It is not because of his administrative duties as department chair; it is not the numerous awards he has received from professional societies; it is not the many department committees he has served on. As important as all these may have been, what sets him apart is his involvement in student life and extracurricular activities. That is where Bayless has truly made a difference.
Bayless has been dedicated to Missouri S&T and its students for most of his life. Bayless, who grew up in nearby Cuba, Mo., came to Rolla as a young man to get a bachelor of science degree in civil engineering and he has been here ever since.
After graduating from the Missouri School of Mines, he joined the faculty as an instructor and went on to earn his master of science in civil engineering in 1962. During the past 50 years, he has served in numerous roles at the university, including associate professor, chair of civil engineering and associate dean of engineering.
Despite taking on increasing departmental administrative responsibilities over the years, Bayless has insisted on maintaining a regular classroom schedule of teaching and advising students. This is the part of his job that Bayless truly loves. It was apparent back when I was a student in the '80s and it still is today. I clearly remember going to him for assistance after Concrete Design class on more than one occasion, and believe me, I wasn't the type of student to do that with most of my professors. Bayless always made me feel comfortable, never intimidated. His students get the feeling he truly cares. Even after I graduated and had moved away from Rolla, he kept in touch and I turned to him for career advice and mentoring from time to time throughout the years.
Bayless, a recipient of the Chancellor Medal, is faculty adviser to Student Council, Lambda Chi Alpha fraternity and Chi Epsilon. He is involved as an admissions ambassador and is a strong advocate of Missouri S&T to high school students. A sports lover, Bayless helps keep stats at Miner basketball games and enthusiastically follows all of the Miner and Lady Miner sports teams. He has been named an Honorary Knight of St. Patrick and serves as treasurer of the Miner Alumni Association. He proctors the professional engineering exam every semester. The list of ways Bayless supports the university goes on and on.
In recent years, these are the roles that I have observed Bayless in and they have demonstrated to me and others his dedication to our school. It is this day-to-day interaction with the students and alumni of Missouri S&T that I truly admire. As a student, teacher, adviser or alumnus, Bayless is a Miner through and through.
Ron Jagels, CE'86, is a financial adviser for Edward Jones Co. in Maplewood, Mo. He is active in the Miner Alumni Association.