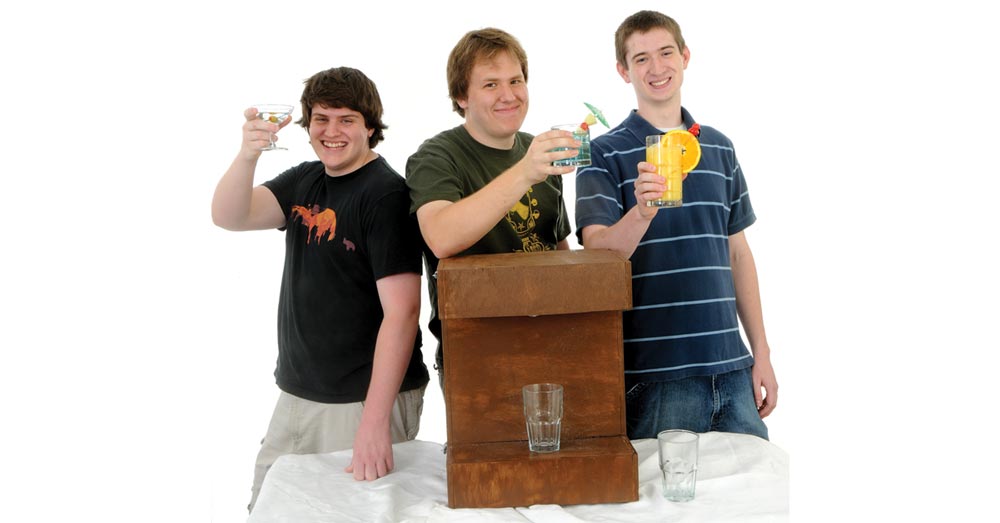 It may look like a plain wooden box, but this computer-controlled bartender could give restaurants of the future a smarter way to serve sodas and mixed drinks.
Missouri S&T graduates Richard Allen, CompE'09, Jon Blount, CompE'09, CS'09, and Nick Pegg, CompE'09, created their prototype "intelligent drink dispenser" for their senior design class in computer engineering. But the idea for the machine grew out of conversations Allen and Pegg had as sophomores.
"Richard and I thought up this idea and just thought to ourselves, 'Man, if we're in senior design together, we should totally do this,'" says Pegg. They teamed up with Blount to design and build their machine.
The prototype looks like a smaller version of the beverage dispensers found in fast-food restaurants or service stations. Unlike those dispensers, however, the S&T students' prototype is controlled through a computer interface that allows the user to select from a menu of drink options. It can dispense and mix up to three different liquids – although, as Allen points out, it could be expanded to up to 24 options. When demonstrating the machine, the students used colored water — red, blue and yellow — to create a variety of mixes.
The prototype also makes use of radio frequency identification (RFID) technology. By adding RFID tags to the bottom of glasses and then programming that information into the computerized system, the students created a dispenser that can remember what kind of drink each glass should contain. This would come in handy for waiters and waitresses refilling drinks at a restaurant, Pegg suggests. A sensor beneath the surface, where the glass would sit while being refilled, would read the glass's RFID tag.
Allen, Blount and Pegg weren't required to conduct a market analysis for their project, so they don't know whether a demand exists for their product. But they see it as something that could come in handy for personal use. The smart system would be nice for a home bar, Pegg says, and could even be used to dispense smart drinks.