Fueling the nation's energy research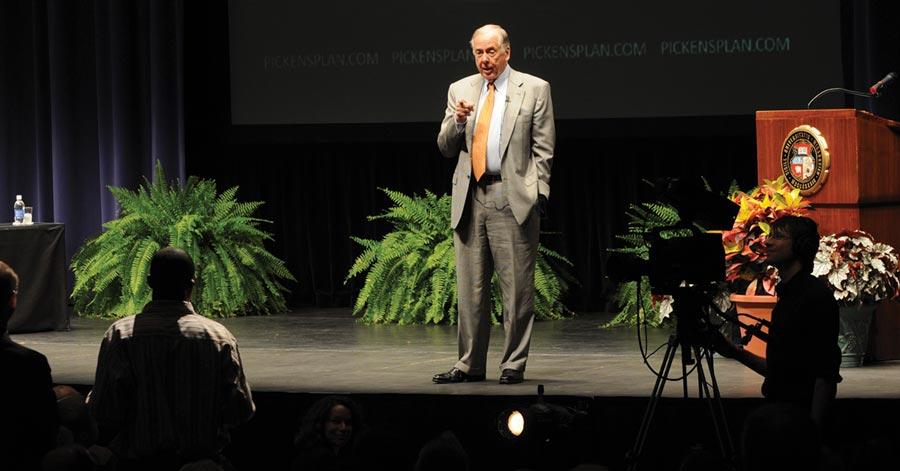 Missouri S&T researchers believe the power grid of the future will operate much like the Internet, except it will transmit energy and not data, speeding renewable electric-energy technology into every home and business in the country. This National Science Foundation-funded study is just one of a number of energy-related research projects at Missouri S&T that distinguishes the university as a leader in energy research.
In April, Missouri S&T showcased its energy expertise at the first-ever University of Missouri Energy Summit. Chaired by Missouri S&T Chancellor John F. Carney III and hosted by the University of Missouri-Columbia, the summit brought researchers, lawmakers and businesspeople together to learn more about the next frontiers in energy research, development, management and consumption. T. Boone Pickens discussed the future of the nation's energy needs during his keynote address.
S&T research projects presented at the summit included sessions on the high-speed production of large coal to facilitate easier and more effective cleaning, the use of a photovoltaic system to power an emergency water disinfection system, the effects of next-generation jet fuel emissions on the atmosphere and the use of plug-in hybrid electric vehicles. Missouri S&T researchers presented 13 of the 28 technical presentations.
Among the summit's expert speakers were Joan Woodard, Math'73, executive vice president and deputy laboratory director, Integrated Technology Programs at Sandia National Laboratories, and Robert Kruse, EE'81, executive director of global vehicle engineering for hybrids, electric vehicles and batteries at General Motors.
To read more about Missouri S&T's energy research, visit cree.mst.edu/.