Daniel Stutts, associate professor of mechanical and aerospace engineering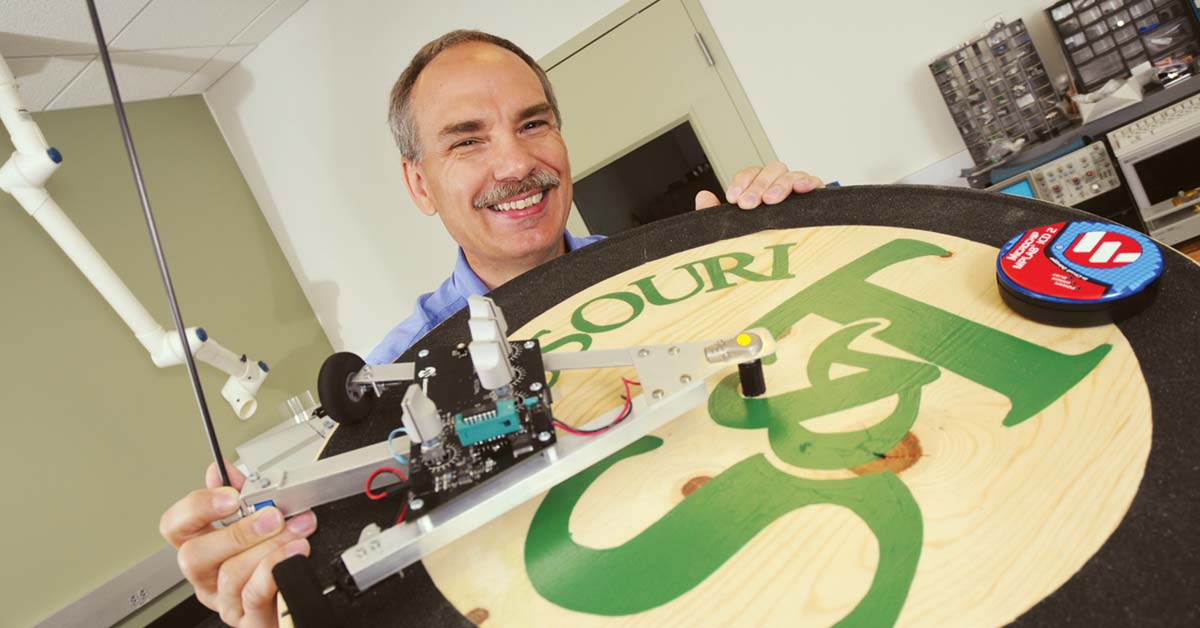 If helping a wandering undergraduate student find focus and, in the process, a career qualifies as an "impact," then I would say that Daniel Stutts made a huge impact on my life.
I started my senior year the spring of 1993, and while my GPA was average, I lacked focus and a strong passion for engineering. Or so I thought. I knew that Missouri S&T had given me a solid education, but as I began to seriously think about a career, nothing in the traditional mechanical engineering disciplines excited me. I had explored more conventional outlets like the co-op program and the Career Opportunities Center along the way, but those only helped me discover what I didn't want to do. Sitting at a desk for eight hours a day cranking out engineering procedures or working on an assembly line was not my idea of excitement, let alone a career. Needless to say, a mild panic began to set in as I began the proverbial job search; I had no idea what I wanted to be when I left Rolla.
Before class one day, I overheard Dr. Stutts discussing a summer project with another student and something about it was intriguing to me. I was already planning to spend a summer in Rolla taking two classes so I asked him a few more questions after class.
Dr. Stutts explained he was working with some orthopedic surgeons from Saint Louis University on an intra-operative bone-milling device and, if I was interested, he might be able to find a place for me on the team that summer as an undergraduate research assistant. It sounded new, exciting, challenging and interesting, so I accepted. That summer I began a "deep dive" into the world of research, testing and biomedical engineering and I was hooked. Working hands-on in a laboratory setting to hypothesize, research, prototype and test real-world ideas was a side of engineering I had never considered.
The ability to combine engineering with medicine, which was my second career choice, to develop life-altering, sometimes life-saving devices was something I found professionally rewarding and personally satisfying. When I returned to campus that fall for my last semester, I immediately suspended my job search and registered for the Graduate Record Exam (GRE) and applied to graduate schools to pursue a degree in biomedical engineering, eventually earning a master's degree from the University of Missouri-Columbia. After a few years of paying my dues, I landed my dream job in the research and development division of Zimmer Inc., the world's leading orthopedic implant manufacturer.
Today I'm a senior engineer in the research division managing the Biomechanical Test Lab. I direct all facets of biomechanics research and testing on knee, hip, spinal, dental and trauma implant products. Researching and replicating human motions and forces in the laboratory combines multiple disciplines like engineering, science and medicine with a lot of creativity. In a nutshell, I get paid to break things. Every day, I have opportunities to prototype and test ideas in the lab or speak with world-renowned orthopedic surgeons all in the effort to develop the next generation of implants. Unlike most researchers, I often have opportunities to witness the results of my work first hand. As a guest in the operating room, I'm privileged to watch surgeons install devices I helped engineer and witness the transformation of those patients' lives. You can't put a price on that kind of feedback. So, did one of my professors make a big impact on my life? Yeah, I'd say so.
Brian Kincaid, ME'93, is a senior engineer in Zimmer Inc.'s Biomechanical Test Lab. He lives in Warsaw, Ind.