Ted Waldbart: A HERO for Haitians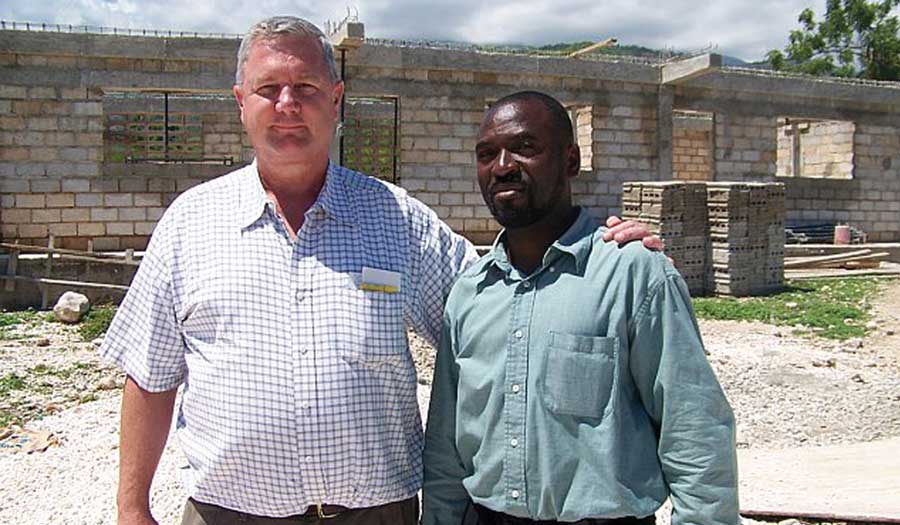 Ted Waldbart's background isn't in nonprofits. It's in solving problems and managing projects for large American corporations like Coca Cola and Phillips Petroleum.
And yet, in September 2003, inspired by the life of Puerto Rican physician Gerónimo "Gerry" Lluberas, he and Bruce Goddard founded Health and Education Relief Organization (HERO), a nonprofit organization dedicated to helping the children of Haiti, the poorest nation in the western hemisphere. "We had heard horror stories," says Waldbart, CSci'78. "We knew we could offer something that no one else was doing, and decided that, based on Gerry's life, we were going to take things to another level."
Waldbart had met Lluberas more than a decade earlier through Transformation Catholic Church in Marietta, Ga., which organized medical missions to Haiti. The projects were right up Waldbart's alley. "I'm not your typical non-profit kind of guy, but I see problems and make things non-issues, both operationally and functionally."
Before succumbing to cancer in May 2003 at age 46, Lluberas had treated more than 10,000 Haitians. "We were inspired by him," Waldbart says. "If Gerry could see what we've done, I'm sure he'd be tickled, but he'd probably say 'Do more and do it faster.'"
Although Waldbart, who lives in Kennesaw, Ga., had organized several trips to Haiti, he didn't make his first trip until 2000, when he attended the dedication of a school that had been built by his church. "It was my last trip before I started HERO. It only took one, and now I've been there more than 20 times."
Since then, HERO has built an expansion to the school, which now serves 400 children and provides one meal and vitamin a day to them. "You can see the physical difference, such as in height, between the kids that are in the school and the others in the community. They have a meal and focus on their education."
After more than five years of helping Haitians through HERO, Waldbart wants to build a business in Haiti that would employ local Haitians and support the organization's work. It's a challenge because, although the available work force is fairly large, about 60 percent is illiterate. "I would love to find a viable idea that could be developed in Haiti to support our projects and above all to create jobs," Waldbart says.
HERO has also connected with S&T's student chapter of Engineers Without Borders, helping them send a team of students and professionals to Corail Lamothe, a remote Haitian village, to assess the potential for a potable water system. Waldbart's organization sought a cost-effective way to supply water to the remote village and asked the Missouri S&T EWB chapter to help conduct an assessment.
"We're trying to build things, do things, that will last a long time," Waldbart says. "Sustainable construction is important in general but in Haiti, it's critical. There's no central water supply, and you need to find sufficient water to pour concrete. You have to figure out where the parts are coming from. You don't call Home Depot. Everything has to be created there."
Everyone should go to an underdeveloped country like Haiti, according to Waldbart, but not the part that's fenced off and upscale.
"To truly see a third-world country, if nothing else, makes you grateful for everything we have," he says. "In Haiti, we have four-wheel drive because we have to. Here, we do it because it's fun."