Talking Turkey: Ozgur Tort
A Missouri S&T graduate in Istanbul (not Constantinople) is running one of the fastest growing retail outfits in the world.
Ozgur Tort, EMgt'96, is CEO of Migros Turk, a $4 billion (U.S. dollars) business based in Turkey. Tort started working for Migros, a grocery store chain, about 13 years ago. "This is actually my first and last employer,"he says.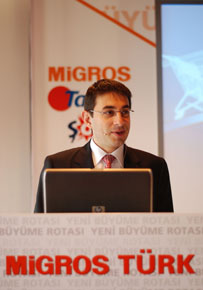 A Turkish citizen, Tort went to work for Migros a month after graduating from Missouri S&T. He helped the company with expansion efforts, worked in human resources, and was involved in marketing and sales. Last year, he became the company's CEO. He credits his rise within the company to a willingness to embrace change and new ideas.
"I haven't had a chance to visit Missouri since graduation, but I would love to create an occasion to visit and cheer for the Miners."
Migros operates 1,280 stores in Turkey, Kazakhstan, Azerbaijan and Macedonia. Before becoming CEO, Tort was head of sales and marketing at an ex-subsidiary in Moscow, which is still one of his favorite cities in the world. Now, based in Istanbul, Tort is focused on guiding Migros through challenging economic waters. The company is trying to cut costs and expand at the same time.
"Supply chain management is the most important operating issue to handle for retailers," says Tort, who spends a lot of his time focusing on things like inventory turnover and innovations within the corporate culture.
Turkey has a population of 70 million people, and only 40 percent of those citizens purchase groceries from retail companies like Migros. Tort sees this as a great opportunity for growth. Moreover, he says, the potential for expanding the operation in surrounding countries is great.
"Compared to Wal-Mart, our size is quite small," Tort says. "Our ranking among global retailers is 190. On the other hand, we are the fifth-fastest growing food retailer worldwide according to one report."
Tort has a 7-year-old son with his wife, Dilek Cavusoglu Tort, who earned a master's of business administration degree at the University of Central Missouri. The family's favorite vacation destination is Tuscany in Italy.
"I haven't had a chance to visit Missouri since graduation," Tort says, "but I would love to create an occasion to visit and cheer for the Miners."