Darrin Talley: Going mobile
If Darrin Talley had it to do all over again, he would have spent more time with people from other cultures during his college years.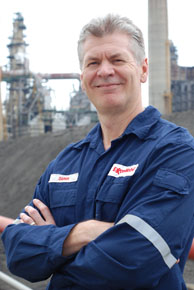 When Talley, ME'88, first arrived on campus from Paris (Missouri, not France), he had never been around people from other cultures or nationalities. But by 1990, he was on his way to his first international assignment: Bogota, Colombia, as Mobil's engineering manager for operations in that nation.
"I would say the biggest culture shock for me was finding myself in the minority," says Talley. "Up to that point, I had always been around people and situations where I easily fit in. It was quite an experience to have to work hard to fit in when you aren't used to it."
"A good education coupled with a good work ethic will be valued in any culture in the world."
Talley continued to work internationally for Mobil (now ExxonMobil), moving from Bogota to Mexico City, then (after a brief stop in Fairfax, Va.) to Singapore in December 1999. In May 2002, Talley moved back to the U.S., working in Irving and Baytown, Texas, but returned to Singapore last July as manager of ExxonMobil's Singapore refinery operations. While his wife Sarah and their two children, Denver and Anna, have adjusted well to the moves, Talley says it's important that the whole family be a part of the decision to take an overseas assignment.
Talley didn't plan on an international career, but he says his S&T education prepared him well for it. "A good education coupled with a good work ethic will be valued in any culture in the world."
Still, he wishes he would have taken more advantage of the campus's diverse international population. He advises today's S&T students to "embrace the diversity around you. You will be amazed at what you can learn from seeing things from a different perspective or in a different context."