During a near-shore practice in rough seas, a United Kingdom Ministry of Defense naval frigate struck a rock and the hull was breached. The ship took on water and began to list heavily to one side. But because it was equipped with a special tank monitor, the ship's crew was able to balance its ballast tanks long enough to beach the ship and keep it from sinking in deep seas.

The tank monitor, an advanced fuel measurement and monitoring system for ships – in particular, naval ships – was developed by North Cyprus-based Medisys. The company is a subcontractor to the UK MoD.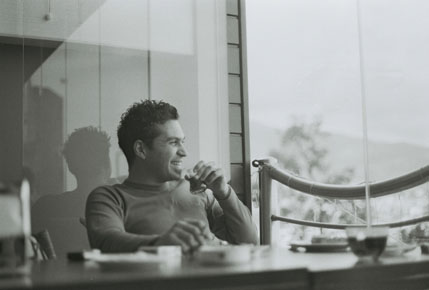 "The tank monitor allows the ship's staff to monitor and control levels and maintain the best trim for the ship at all times," says Alper Tonga, EE'02, a native of Turkey and the company's software engineer. "Whenever a monitored tank's content goes under or over a set threshold, the system alerts the crew."
Tonga, a native of Alanya, Turkey, came to Missouri S&T at age 16 on a full scholarship from Hurriyet International Trade, a subsidiary of the Turkish newspaper Hurriyet. After graduation, he went to work for Medisys, where he and his boss, an electrical engineer from the University of Kansas, designed and built the tank monitor from the ground up.
"I am not all work," Tonga says. "As they say in The Shining, all work and no fun makes Jack a dull boy."
"Whenever a tank's fuel is used, the ship gets unbalanced and leans toward the side of the ship that still has full tanks," Tonga explains. "To balance the ship, the crew pumps sea water into partially empty fuel tanks." The device can distinguish between the two liquids and allow the crew to monitor the fuel left in the tank, even after it's filled with sea water.
"By using the device, the crew knows exactly which tanks need sea water added, and how much to add, in order to keep the ship's balance."
Although developed for naval frigates, the UK MoD has installed it on other naval vessels and has proposed it as a replacement fuel monitoring system for all conventionally fueled ships. Derivatives of the system are being used in other NATO naval ships, as well as civilian cargo ships, where it can monitor the moisture level of bulk cargo during transport.
Keeping up with current software trends is important to Tonga, so he reads industry news whenever he can, then practices what he learns by writing code or building equipment. But he likes to have fun, too.
"I am not all work," Tonga says. "As they say in The Shining, all work and no fun makes Jack a dull boy."
A member of Aikido Martial Arts Club as a student, Tonga still enjoys meditation, but with no Aikido dojo in North Cyprus, he does Pilates to get his meditation fix. He's also a budding photographer.
"I have a Canon AT-1 camera. It's a manual," he says. "Despite my work, where everything I do is digital, I am all analog when it comes to photography."