Irvin and Elmer Spotte: oldest living Miner brothers
Back in the early 1930s, when the men believed to be Missouri S&T's oldest living brothers – Irvin and Elmer Spotte – played football for the MSM Miners, Jackling Field stood in what today is the middle of campus. Located just to the left of Jackling Gymnasium, which was torn down in the 1960s to make way for Curtis Laws Wilson Library, the field was the site of the 4-4 season of 1933.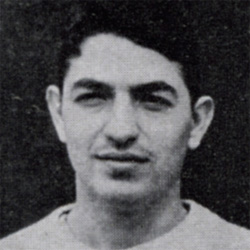 A sophomore at the time, Elmer Spotte, MinE'35, was starting center for the Miners all four years he played. He was an all-conference selection two of those years and served as team captain his senior year. The 1933 Rollamo described him as "a big cog in the center of the line … another great center who combined weight with ability and such a combination spelled disaster to opponents."
Irvin Spotte, MetE'33, was a senior in 1933 and it was his last season on the team. "The older of the two brothers and a good end, Irvino made his side of the line impregnable to attack," reads his description in that year's Rollamo. "He will be absent from the lineup next fall and will leave a big vacancy."
When he wasn't on the field, Irvin was active in the Prospector's Club and became a founding member of Sigma Pi fraternity in Rolla, when the group chartered Missouri S&T's Alpha Iota chapter that same year.
Irvin's determination on the football field stayed with him throughout his life and in his career. His first job in the coal industry after graduation netted him $2.80 for an eight-hour workday. By the end of his more than 50-year career, Irvin had served as president of one of the nation's largest independent coal producers.
At the start of World War II, Irvin was working for an MSM classmate in the Philippines as a mining engineer for an iron mining company. The company shipped ore to Japan until the bombing of Pearl Harbor in 1941. After the bombing, Irvin enlisted in the U.S. Army in the Philippines, putting to use his ROTC training from MSM. He was commissioned in the Corps of Engineers and was building air fields when he and his first wife, Flora, were captured in April 1942. Flora was interned in Manila. Irvin was taken by troop ship to Japan and spent the next 39 months as a prisoner of war.
"The experience made me more tolerant and patient," Irvin says. "I have a better understanding of my fellow man."
Upon his release, Irvin returned to the coal industry, working his way through the ranks to vice president of Philadelphia and Reading Coal and Iron Co., president and chair of Pittston Co. Coal Group, and president of Sun Glo Coal Co. He also served as an independent consultant.
Unlike Irvin, Elmer saw no service during World War II.
On a field trip with his senior metallurgy class, Elmer was offered a job in Republic Steel's mill in south Chicago. He accepted the job and stayed with the company until his retirement as superintendent of the inspection department 43 years later. Because steel was a vital industry, Elmer was exempt from military duty.
Elmer, 96, lives with his wife of 67 years, Henrietta, in Mesa, Ariz. An accomplished woodworker, he makes grandfather clocks, bowls, letter openers and small furniture. Irvin, 98, lives in Fort Myers, Fla.