When Missouri S&T swimming coach Doug Grooms came to campus in 1993 he saw the need for quality swim instruction for kids in the community. He also knew his swimmers were the ideal teachers. "We teach kids starting at the age of 4 and the age ranges up to around 12," Grooms says.
"We teach all ranges of ability levels, from beginner to sage group swim team level."
"Many of the kids have little or no experience in the water," says Missouri S&T Athletic Director Mark Mullin. "Our swimming lessons help kids in the community learn to swim and they get excellent instruction."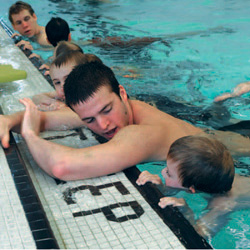 Last summer was Emma McKee's second round of swimming lessons. By the end of the session, when she was still only 4 years old, she could swim on her own. Her dad, Dave, says the format of the lessons is what makes them so successful.
"The way they structure the course with lessons every night for a week really helps the kids build on each lesson and get a solid foundation," says McKee, public relations and marketing director for Phelps County Bank in Rolla. "You can really see the progress of their development."
The best part about swimming lessons for 7-year-old Olivia Burken and her sister Mya, 6, is the personal attention they get. The team keeps each class small so there are only two or three swimmers per instructor.
"They love swimming lessons," says their dad, Joel Burken, associate professor of environmental engineering at Missouri S&T. "They really enjoy having the 'S&T swimmers' who placed nationally as teachers.
"The lessons are clearly phenomenal," says Burken. "The interweaving of the academics, athletics and even outside activities is one of the things that makes Missouri S&T and Rolla as a community unique, I think."
"These are far and away the best swim lessons in the area," says John Myers, associate professor of civil engineering at Missouri S&T and dad to Tyler, 10, Makenna, 7, and Cailyn, 4, who took swimming lessons last summer. "The instructors are very patient with the kids and their swim strokes have improved dramatically over the past season. It is an awesome investment in our children's development."