Kandi Wieberg: A dream come true
Since she was a little girl, Kandi Wieberg dreamed of being a college softball player. Playing as second baseman for Missouri S&T's softball team, she's achieved her dream and much more.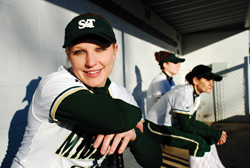 Kandi Wieberg | Photo by B.A. Rupert.
Wieberg, a junior in civil engineering from St. Elizabeth, Mo., worked hard to gain the skills to be able to play softball in college and her efforts have been recognized. Last year, she was named the Great Lakes Valley Conference (GLVC) "Player of the Year" for 2007 and the GLVC "Scholar-Athlete of the Year" for the 2007 spring season.
Wieberg was also named to three All-American squads. She earned the honor of being a second team selection on the Louisville Slugger/National Fastpitch Coaches Association (NFCA) squad, a first team selection on the the Daktronics Division II squad and a third team selection for the ESPN the Magazine Academic All-American squad. She was named to the All-Region and All-GLVC first team squads and was named the NFCA "Player of the Week" in April 2007. Wieberg was also named to the first team All-American squad along with teammate centerfielder Ashley Winter and as a freshman earned an honorable mention in the Mid-American Intercollegiate Athletic Association (MIAA) conference.
Wieberg currently holds school records for triples in a season (9), doubles in a season (21), doubles for a career (42), and home runs for a career (24). She also tied the record for longest hitting streak (18 games) in her latest season.
Wieberg strives to do as well in the classroom as she does on the field. She is on the honor roll and continues to keep her GPA above 3.5 as required to be an NFCA scholar-athlete. "To keep that certain GPA is one of my goals," says Wieberg, "so it reminds me that I am keeping on track towards the ultimate goal of my college career: to graduate with a bachelor's degree in civil engineering."
Playing softball for Missouri S&T has taught Wieberg how to be a good teammate. She has also learned commitment, dedication, and responsibility and built lifetime friendships.
"I have learned that I am not just playing softball for myself; I am also playing for the 15 other girls on the team," she says. "This is their opportunity to achieve their dreams as well, and if we all work hard together, our dreams will be better than we ever imagined. Our successes throughout our careers reflect each individual's contributions, not just one single player's efforts."