Beth Burka: "Save green, go green"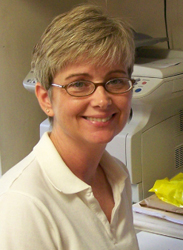 Beth (Eberle) Burka, ME'84, is helping businesses across the country save green by going green.
Burka founded her St. Louis-based company Energy Matters Inc. in June 2005 to help business owners save money by developing energy management programs.
In doing so, Burka took a huge risk leaving a stable position at a natural gas company, and all the benefits that went with it, to go into business for herself.
"It was always my dream to get involved in renewable energy and energy efficiency," Burka says. "It's a great learning experience to be involved in all aspects of a company and see your ideas come to fruition."
Burka now helps companies that own multiple properties identify ways to save energy without making major capital investments. For example, she may show a chain of stores how to save big bucks by buying energy from alternate suppliers, ensuring taxes are assessed properly or changing rate schedules. To accomplish this, Burka monitors the performance of the company's buildings and audits utility bills to find savings opportunities and to prioritize actions. Burka also is involved in helping businesses develop renewable-energy projects.
"There are things you can do without spending a lot of money," Burka says. "If your utility bills are in the millions, you can probably save 1 percent just from careful attention to the utility bills."
Burka studied mechanical engineering at Missouri S&T, then UMR, because of views shaped during the energy crisis in the mid-1970s. She believes now is an exciting time to work in fields dealing with energy or the environment and adds that founding Energy Matters Inc. has renewed her passion for engineering.
"Energy costs are really on the front burner," Burka says. "I have 20-something years of experience in the energy field, and it really seemed like the energy world was changing and the time was right," she says of starting her business.
However, as the sole employee of Energy Matters Inc., Burka has had her hands full with projects spread across 18 states.
"You name it, I'm the janitor, the CEO and the accounting department," Burka jokes.