While stationed in Africa during World War II, Thomas W. Kelly Jr., MetE'40, wrote a will establishing an MSM scholarship fund with money he inherited from his uncle.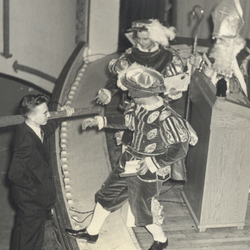 Thomas W. Kelly Jr. was knighted in a 1930s St. Pat's celebration.
The Earl Peters Award helps students from his Benton, Mo., hometown attend UMR> Kelly was killed in a bombing raid on July 28, 1944, and MSM inherited all of his earthly belongs, which remained in the attic of Schrenk Hall for decades. They were uncovered during a building renovation and donated to the UMR Archives, where they now safely reside.
Kelly was one of six MSM graduates killed in World War II whose names are memorialized in UMR's Quadrangle. Kelly Hall, current home to 150 UMR students, was dedicated in 1958.