Fred Bueler Jr.: Remodeling St. Louis, one house at a time
Fred Bueler Jr., CE'79, got hooked on the home-remodeling business at age 14 when he began working summers for a contractor in his St. Louis hometown. Back in those days, he was digging footings and foundations by hand.
Today Bueler runs his own 10-person design/build residential remodeling company. Bueler Inc. has been in business since 1984.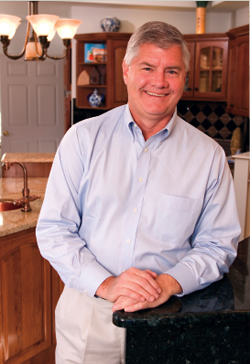 Fred Buehler Jr. | photo by Defilippo Photography
After graduating from UMR in 1979, Bueler went back to work for his high school employer as a vice president, but after five years, set out on his own.
Bueler and his wife were born and raised in the St. Louis area and wanted to stay there to raise their family. That is a big part of the reason he opened his own business.
"After graduation, I interviewed with several St. Louis firms, but they all wanted to send me around the country – they thought that sounded like a perk," Bueler says. "But I wanted to stay in St. Louis. That's why I was interviewing with St. Louis firms."
Bueler loves being an entrepreneur because of the freedom and independence it affords. "I have to work hard, just like everyone else," he says. "I just get to choose when I do it."
Although he originally started out studying architecture at the University of Kansas, he soon learned civil engineering was the direction he needed to take and he transferred to UMR, the school he credits with much of his success. He feels his UMR education is what sets him apart from other contractors.
"UMR is a hard school," Bueler says. "People recognize that and that's why people want to hire UMR graduates."
Bueler and his wife, Ann, have three grown children and one grandson. One of their daughters, Lynne, is an interior designer with the firm.