A tradition of love and beauties
"I have nothing to do with it. You'll have to ask Mary." That was Sarah McCrae's response in 1916 when a caller asked if her daughter would serve as the first Queen of Love and Beauty elected by the junior class at MSM. (Technically, the first queen, Helen Baysinger, the daughter of a Board of Curators member, was crowned in 1915, but had not been elected.)
You can just imagine what thoughts were running through Mary McCrae's mind when she answered that phone call in 1916. Despite the advance notice, the secret of who had won was kept well by everyone involved, including Sarah, says Mary Rothband, wife of Paul Rothband, CE'43, and Mary's only daughter.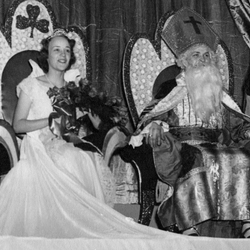 Mary McCrae, the Queen of Love and Beauty of 1939, was the niece and namesake of the 1916 queen.
A student at Stephens College in Columbia, Mo., Mary McCrae was the only daughter of Sarah and Charles McCrae, the founder of the Rolla newspaper, later called the Rolla Herald. Mary was at school when she got the call from MSM telling her she had been selected as the queen, according to Mary Rothband.
"Everyone was flabbergasted when Mary walked up to the throne to be crowned," says Mary Rothband. "She had come to the costume ball with three other young ladies – all dressed alike. At some point, my mother managed to have another young lady put on her costume, so when anyone counted, there were still four identical costumes."
Missouri Miner articles following the St. Pat's festivities noted that the 1916 celebration had indeed been the Best Ever, and cited numerous examples:
25 floats participated in the parade
400 to 500 people had kowtowed to St. Pat in front of Norwood Hall
165 couples danced until 4 a.m. to Circardi's famous orchestra at the costume ball
Robert Love, a St. Louis daily newspaper reporter covering the event, described Rolla as "a town you ought to see before you go to Paris and die."
The Missouri Miner reporter does mention "one sad regret" about Mary, who was dressed in a silk gown with ermine trimmings and a coronet of sparkling diamonds: "After all was said and done, all her admiring subjects could not have the pleasure of a dance with her."
Mary Rothband says as a former queen, her mother continued to participate in the St. Pat's parade until the family moved to Oklahoma in 1931. The McCrae royalty line was revived in 1939, when the 1916 queen's niece and namesake, Mary McCrae, was crowned.
For Joan Christian, the St. Pat's family tradition began in 1951 when she was named a maid of honor by the Kappa Sigma fraternity at MSM. It was during that year's celebration her future husband, Charles Christian, CE'53, gave her his pin. Joan married the St. Pat's board member the following year and in 1953, Friday the 13th became a "not unlucky" day for her, as she was picked from 12 other candidates as the 37th Queen of Love and Beauty.
Her luck continued into the parade, as she was the first queen to have a float built for her and her court. The mostly green float, built by Lambda Chi Alpha, had Joan perched on top and was "so large that at the end, it wouldn't fit down the street," adds Joan.
On Saturday night, the big dance featured band leader Ray Anthony and The Skyliners, who had also performed the evening before. Anthony's "The Bunny Hop" and "Hokey Pokey" were hits of the evening, according to the campus newspaper.
Growing up, Matthew Christian, MinE'79, would sit with his two younger siblings and watch as his parents showed pictures of previous St. Pat's celebrations. When he attended UMR, Matthew decided to continue the family tradition, eventually serving as a herald his senior year.
Fifty-one years after being crowned, Joan returned to Pine Street in 2002 to serve as the parade's grand marshal, at the request of Matthew's oldest son, Nicholas, NucE'07, who had become a St. Pat's guard.
"I know he got a kick out of his grandmother being a former queen," adds Joan.
Like most traditions, the St. Pat's queen and her court have evolved during the past decades. The court now includes the Princess of Peace and Happiness, the Countess of Chastity and Virtue, the Duchess of Desire and Ecstasy and the Lady of Honor and Devotion.
Editor's note: Legend and truth are intertwined with every story about the St. Pat's celebration in Rolla and this one is no exception.