Gathered around the small stone furnace in Room 142 of McNutt Hall, a group of middle school girls watched in awe as Nathan Wyckoff, a graduate student in materials science and engineering at UMR, poured hot, yellow liquid glass into a ceramic mold to cool. While pouring the liquid, he explained to them that glass is formed at 1,050 degrees Celsius (1,922 degrees Fahrenheit), noting that brownies bake at only 350 degrees as a reference point.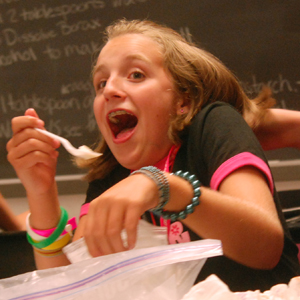 Middle school girls went to camp at UMR this summer and learned — well before they will have to make out their high school schedules — that math and science can be fun. | photo by B.A. Rupert
As the girls watched the liquid cool into a blue glass bar, he explained what glass is composed of and that different elements can be added, such as cobalt in this instance, to make different colored glass. "Nearly none of them had seen hot glass before," Wyckoff said.
Wyckoff's hot glass demonstration was just the beginning of a three-day science camp for the girls. Called It's a Girl Thing, the camp is aimed at girls in the seventh and eighth grades, and is designed to get more females interested in science and engineering. Throughout the camp, the girls learned about such things as explosives, water, genes and more.
Mary Reidmeyer, associate professor of materials science and engineering, introduced the girls to tempered glass, Silly Putty, shape-memory wire, aluminum nails, a superconductor and hydrogen fuel cells. "The girls enjoyed the tempered glass demonstration, the shape-memory wire and, of course, anything with liquid nitrogen," she said.
Reidmeyer concluded her demonstration with a special treat for the girls: marshmallows frozen in liquid nitrogen. The goodies created frosty clouds when the girls bit into them. "My favorite part of the Material Girl demonstration was just about everything, but I really loved the marshmallows in the liquid nitrogen," said Maggie Huff, a camper from Joplin. "I was already interested in science but coming to this camp made me even more interested and also made me appreciate it more."
Reidmeyer believes that programs like It's a Girl Thing are having a positive effect on her department and notes that female enrollment in materials science and engineering is up by 40 percent. She hopes that by offering these types of programs to girls, they will see math and science as fun and exciting.
"It is very important to give middle and junior high school girls the exposure to science before they have to make out their high school class schedule," Reidmeyer says. "They need to see there is an interesting future for them in the science and technology fields."
by Elizabeth Hogancamp