Explosives Camp director Paul Worsey instructed one of the high school students to get ready to activate the firing unit, which was connected to the shot cable, which was connected to the detonator, which was connected to the detonating cord – which, finally, was connected to several cans filled with ether. After Worsey's last warning of "Fire in the hole!" was sounded, a frighteningly loud boom erupted, accompanied by a huge ball of red fire and black smoke.
The campers, who were all wearing ear plugs and safety goggles, howled their approval from a safe distance. Some of them were already watching video of the explosion on their cell phones. Worsey, a mining engineering professor at UMR, laughed and turned to a reporter who had just witnessed his first blast at the summer camp and was still trying to process it. "It comes as quite a shock when you hear it for the first time," Worsey explained.
The students, by now, were starting to get used to the power of a big blast, but that didn't diminish their collective enthusiasm for more explosions. During the six-day camp, they would help to generate a 150-foot water spout, feel the concussions of underground explosions, experience demolition demonstrations, fashion fireworks displays and witness the thorough destruction of a store-bought chicken. Because the skin and bone structure of a frozen chicken are so similar to that of the human hand, blowing one up provides a perfect lesson in explosives safety, according to Worsey.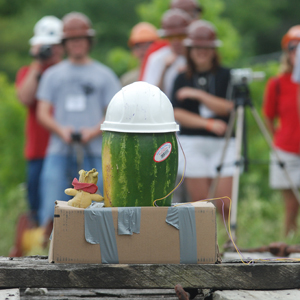 This watermelon (and also a chicken from the grocery store) were sacrificed in order to demonstrate the power of explosives. | photo by B.A. Rupert
Jennifer Babb, a camper from St. Louis, says she was a little surprised by all of the work that goes into blowing something up. "It has to be planned out," she says. "It's not just boom, boom, boom."
More than 100 high school students submitted applications and essays, but the camp could only accommodate 40 people. For the first time in its four-year history, the camp was divided into two June sessions of 20 students each. Most of the activities took place on the property of UMR's Experimental Mine. In between explosions, the campers listened to academic lectures, underwent safety training, toured facilities, explored career possibilities, and learned about UMR's mining and nuclear engineering department, the only academic department in the United States that offers a minor in explosives engineering.
Even when things got a little boring, the students seemed eager to soak up most of the information – probably because they knew they would soon have another opportunity to see, hear and feel another blast. Babb and Harrison Ray, a camper from Harrison, Ark., confess that they were continually awed by the percussion of such a blast. "It just hits you right in the face," Ray says.