Ray and Susan Betz: Reputation is key
For Ray Betz, CE'66, and his wife, Susan, reputation is key – UMR's reputation, that is.
One of the university's goals in changing its name to Missouri University of Science and Technology is to broaden campus visibility outside of Missouri. The Betzes believe one of the best ways to do that is to encourage out-of-state students to attend UMR and they've established a scholarship fund to do just that.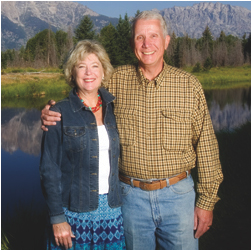 Ray and Susan Betz | photo by B.A. Rupert
"Susan and I have an interest in seeing UMR gain additional national recognition," says Betz. "Gaining more out-of-state students will work to benefit UMR's reputation."
The Betzes' $500,000 endowment will provide funds for students outside Missouri to attend UMR. Students from Texas, the Betzes' home state, are preferred, but all out-of-state students are eligible. Although a native of St. Louis, Betz has lived in Houston since 1970.
Giving back to the school that gave him his start is very important to Betz.
"I have appreciated and respected the discipline and high quality of graduates UMR produces and I want to see that continue," Betz says. "UMR helped me immensely, and I owe a large debt of gratitude to the university. UMR instilled in me the importance of discipline and dedication, and provided me with an excellent engineering education that has proven to be a strong foundation in my career."
After a two-year stint as a lieutenant in the U.S. Army Corps of Engineers, including service in Vietnam, and a few years with the international consulting and accounting firm of Deloitte Touche, Betz put his master's degree in business from the Krannert School at Purdue to good use and ventured out on his own in commercial real estate, by founding The Betz Companies. The Houston-based commercial real estate investment and development firm started as a one-man office in 1976 and now staffs 25, in addition to Betz, primarily serving Houston, one of the leading job-producing areas in the Sun Belt.
When he isn't working, Betz enjoys spending time with his family. He and Susan have four children who live in Houston and Austin and eight grandchildren, who range in age from 1½ to 16. Traveling is a passion for Ray and Susan, but when they're not on the road, they divide their time between homes in Houston and Jackson Hole, Wyo. They spend the majority of their summers and part of the winter each year in Jackson Hole hiking, cross country skiing, playing tennis and occasionally fly fishing.