Katie Mae Herington: prospective UMR student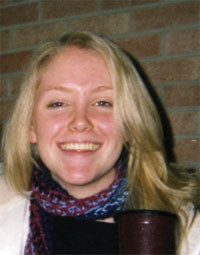 Vital stats
hometown: Kalona, Iowa
birthday: 2/1/89
current occupation: Mid-Prairie High School senior
college plans: starts UMR in August, signed to play volleyball
dream job: either a marine biologist studying manatees in Florida or being a photographer for National Geographic
interests: reading, hanging out with friends, volleyball, watching movies and crocheting
Info
Words to live by: Author and activist Marianne Williamson once said "Your playing small does not serve the world…we are all meant to shine." Katie Herington took those words to heart.
In the year 2020: "My hope for the future is that I can do something that will significantly improve the world, even if it's only a small portion of the world."
Inspiration: "Seeing goodness come out of people in everyday situations inspires me," the upbeat 18-year-old says. "If I could get advice from anyone, it would be Mother Teresa because she did so much for the world."
Yes, I am a millennial: Civic-minded Herington considers herself a competitive, dedicated, team-oriented and compassionate person – key character traits of millennials.
There is no "I" in team: "Teamwork is essential," says Katie. "Yes, you can do things on your own, but through teamwork – on the court, in the classroom, wherever – you can do so much more. I've grown up with 'teamwork' ingrained into my way of thinking. I think it has always had a positive influence on me."
There's more to me than volleyball: When she's not playing volleyball or finishing up her senior year at Mid-Prairie High School, this millennial enjoys reading, watching movies, hanging out with friends and crocheting.