Perrin Roller: A volunteer who loves UMR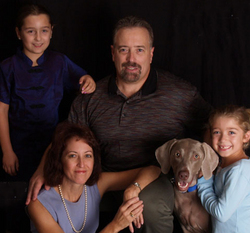 Whether he says it in Spanish, Portuguese, Russian, French or Arabic, Perrin Roller, GeoE'80, is ready to tell anyone who will listen why he loves UMR.
"Going to a technically oriented school like UMR is so different than going to a comprehensive university because it is so specialized," Roller explains.
"You're immersed with people you're going to work with the rest of your career, you make a lot of life-long friends."
Roller, corporate drilling engineering manager for Devon Energy Corp. in Houston, Texas, oversees long-term rig contracts, provides technical expertise on well control and subsea drilling operations, and helps to recruit and train new engineers. This month, Roller and his family are moving to Singapore, where he will manage the construction, commissioning and sea trials of a new deepwater drilling rig in the Gulf of Mexico.
Roller's job has always required a lot of travel. Since graduating from UMR, he estimates he's visited almost 40 different countries.
"I am fairly fluent in Spanish; I speak Portuguese well enough to get along, and a bit of French," Roller says. "I've learned enough Arabic to get me around town in Egypt and if I have to order dinner in Paris or Moscow, I can do that."
Roller is president-elect of the MSM-UMR Alumni Association, but his involvement with the campus doesn't end there. He's a member of the UMR Academy of Mines and Metallurgy, the Order of the Golden Shillelagh and an honorary initiate of Pi Kappa Alpha fraternity. He also serves as an industry advisor to petroleum engineering and geological engineering faculty and students. A lecturer in petroleum engineering, Roller was granted adjunct status in 2005.
"It seems like it's the busiest people who donate their time to their alma mater," he says, noting the irony. Clearly, he's one of those people. For him, supporting UMR however he can is a necessity.
"It's a deep-rooted attachment for the university," Roller says. "You take pride in UMR and if you have the ability to help make things better, you want to do that in whatever way possible, whether it's helping to recruit, serving as an advisor to your former department, serving on the alumni board or pulling out your checkbook."
In addition to work and UMR commitments, Roller still finds time to relax with his wife and daughters (ages 6 and 8). "You have to make free time for yourself. I try to spend as much time with my family as I can."
The former Miner offensive lineman now plays left wing on two adult ice hockey teams. "That's my stress relief."