Creation through destruction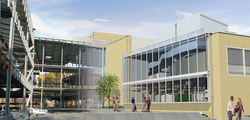 Toomey Hall phases include demolition, construction and renovation
The old Mechanical Engineering Annex, built in 1902, is history. The demolition, which took several months, started last winter. Now, concrete has been poured on the vacant site and the steel beams of a brand new structure have risen.
In the fall of 2007, phase one of the creation of Toomey Hall will be nearing completion. The new structure, just north of the main Mechanical Engineering Building, will be a modern facility housing laboratories and space for student research. Most of the classrooms and office spaces will remain in the Mechanical Engineering Building, which is scheduled for an extensive renovation during the final phase of the project.
The new structure and the renovated structure will be connected by a three-story glass atrium area to make one completely new building that will house the mechanical and aerospace engineering department. John, ME'49, MS ME'51, and Mary Toomey and family gave $5 million to the ambitious project in July of 2004. The total cost of the construction and renovation of Toomey Hall will be almost $28 million.
"Over $14 million has already been raised, which will cover the first phase, including the new construction," says Ashok Midha, chair of UMR's mechanical and aerospace engineering department. "Our hope is to continue with the renovation phase as soon as the first part is done."
Midha hopes all the stages and phases involved in the creation of Toomey Hall will be finished by the fall semester in 2008. In the meantime, faculty, staff and students will have to do a lot of improvising. "We'll have to find some temporary classroom spaces and a few office spaces in other buildings while all of the work is going on," Midha says.
Mechanical and aerospace engineering is already UMR's largest department. Once Toomey Hall is finished, Midha can envision even more growth.
"Better facilities attract high-profile students and faculty," Midha says. "We have an opportunity to improve upon our reputation nationally and internationally. It's surprising how new facilities help raise a department's profile and inspire faculty, staff and students."