Travis Stensby: Lucky to be swimming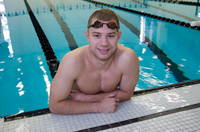 Travis Stensby was swimming for the University of Minnesota when he discovered a blood clot in his shoulder three years ago. That medical condition forced him to quit the team, and he thought his collegiate swimming career might be over.
"I wasn't sure how I would recover and I wasn't sure if I would be able to swim at that high of a level," says Stensby. "My doctors weren't sure how I would recover either."
By the time he was medically cleared, Stensby, of Bellevue, Neb., decided to get back into competitive swimming. He chose UMR because he says it was the best place for him to swim in Division II and continue to pursue a degree in engineering. Stensby transferred to UMR at the end of his sophomore year. He's majoring in mechanical engineering, with a manufacturing focus. "I'm excited about the fact that I still get to swim after having my injury," he says.
Stensby was 7 when he took his first swimming lessons. Shortly thereafter, his mother convinced him to join a swim team. Fourteen years later, Stensby says swimming appeals to him because, unlike team sports, his performance is judged solely on his own effort.
But that doesn't mean Stensby isn't a team player. He enjoys his role on the Miners swim team.
"I bring a lot of knowledge of the sport and experience of participating at a high level," says Stensby. "With my background, I think I am able to help younger swimmers develop and bring the practices to a higher level. Having the team to train with makes me a better swimmer because they push me in practice, making me train harder. I like being a part of a team and the challenge to make myself a better swimmer."
Stensby has competed in Nationals twice, placing in the top 16 in five individual events and three relays, and finishing in the top eight in three individual events and in two relays. His best events are the 100- and 200-yard in both butterfly and backstroke, though he is most consistent in the 100-yard butterfly.
"I feel that I am lucky to be swimming again so I try to just have fun while I am swimming and try to put my best effort forth," says Stensby. The effort and dedication have paid off, as Stensby has achieved four separate school records and placed fifth in Nationals.
Stensby also likes to play golf and watches almost every sport, especially football, basketball and baseball. In his free time he likes to travel or participate in outdoor activities such as surfing, snowboarding and horseback riding.
Now a senior, Stensby has been a UMR swimmer for two seasons. He enjoys UMR's casual, small-school atmosphere, in contrast to the Big 10 schools like Minnesota. "I enjoy the small classes with the ability to get to know your teachers," he says. Stensby also serves as president of the UMR chapter of the Fellowship of Christian Athletes, all while maintaining a 3.2 GPA.