The world is flat. Or is it fat?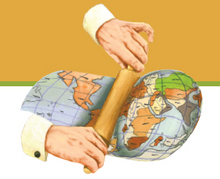 After Columbus and before globalization, we realized the idea of a flat world was a myth. We've known for a long time that the world was really quite round. But, recently, we learned the world is being flattened by global competition. Or is it?
Thomas Friedman is largely responsible for confusing things with his best-selling book about global competition, The World is Flat. But one of Friedman's colleagues at The New York Times, David Brooks, isn't as concerned about this brave new world of increased competition.
Brooks wrote a column last February in an attempt to debunk some of the myths associated with globalism. "We should be more worried about the countries that can't support themselves than people in countries with rising wealth like India and China," Brooks concluded.
With that in mind, we took a closer look at some popular notions associated with globalism in search of myths.
Myth: Quantity equals quality
In the United States, 72,893 engineering students earned bachelor's degrees in engineering in 2005. India graduated between 200,000 and 300,000 engineers last year, but nearly half of those graduates only earned three-year diplomas. China, with a population four times greater than the U.S., graduated approximately 500,000 engineers last year, but the list includes auto mechanics and other technical workers, according to a Duke University study.
Using India's standards, for example, the U.S. could have reported almost twice as many engineering graduates in 2005.
Mark Clayton of The Christian Science Monitorpoints out that Americans were also worried about relative numbers during the Cold War. The Soviet Union had more nuclear missiles, but the U.S. had a superior stockpile when quality and precision were taken into account.
Myth: Outsourcing is out of control
A McKinsey Global Institute study last summer found that only 25 percent of Indian engineers were ready to compete for outsourced work. McKinsey estimates that fewer than 10 percent of professionals in China have what it takes to work for a multinational company.
David Nicklaus of the St. Louis Post-Dispatchreports that global outsourcing actually contributed information technology jobs to the U.S. economy, about 250,000 of them, in 2005. Daniel Drezner, an assistant professor of political science at the University of Chicago, told Nicklaus that outsourcing, like corporate downsizing and Japanese automation in past decades, has become a comprehensive scapegoat for other economic problems.
Myth: Our children are falling way behind
Singapore schoolchildren are No. 1 in global math and science rankings. But Singapore's minister of education, Tharman Shanmugaratnam, recently told Newsweek's Fareed Zakaria that the rankings aren't necessarily indicative of future performance. "Yours is a talent meritocracy," Shanmugaratnam said. "Ours is an exam meritocracy."
That talent belongs increasingly to American girls as well as boys. So maybe the widely held notion that boys outperform girls in math and science is really a myth, too? Not exactly. But girls have steadily closed the gap in the U.S, and, by the mid-1990s, more girls were already taking high school biology and chemistry classes than boys.